Sprinkles make everything taste better! Am I right?? They are colorful, mini, and can make anyone smile. You're going to LOVE these 21 sprinkle treats. Go get a container of the most colorful sprinkles you can find and try making some of these fun and delicious treats!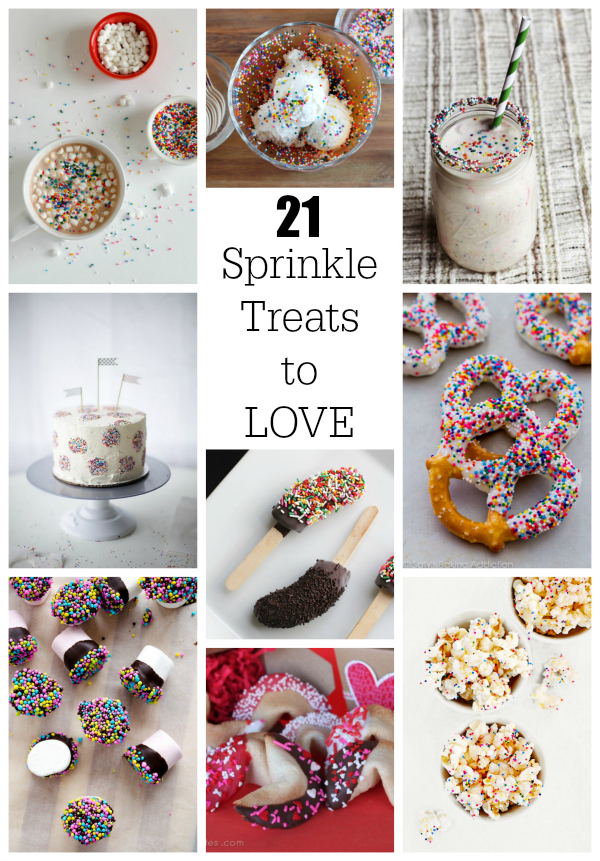 21 Sprinkle Treats You'll LOVE
1. Hot Chocolate with Sprinkles: Put some color in your cup of hot cocoa with some rainbow sprinkles.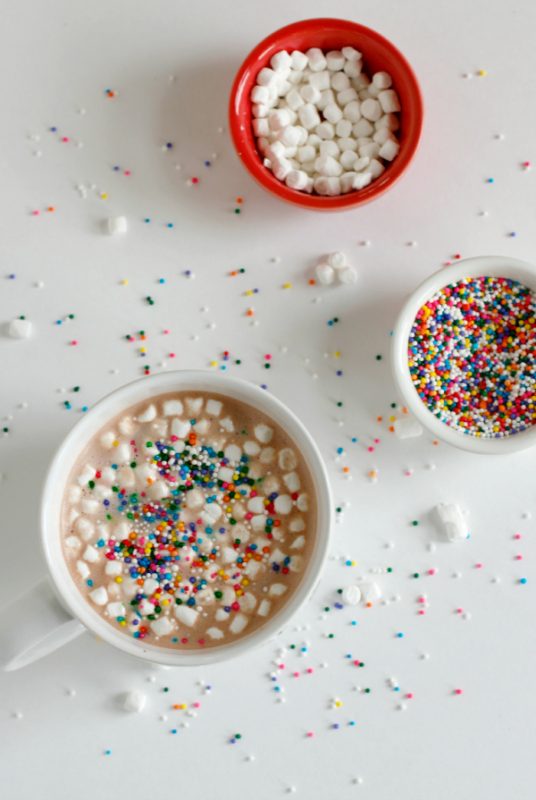 2. Ice Cream Sandwich Donuts: Combine donuts and ice cream to make these fun ice cream sandwich donuts from Studio DIY! Add sprinkles to complete the donut look!
3. Funfetti Cake Batter Pancakes: Surprise someone in your family for their birthday with these pancakes loaded with sprinkles! Get the recipe from Baked by Rachel!
4. Chocolate-Dipped Frozen Bananas: Super simple and super delicious chocolate-dipped frozen bananas with sprinkles from This Week for Dinner!
5. Fairy Bread Cookies: Bake a classic butter cookie, slather it in frosting, and load sprinkles on the top to make these adorable Fairy Bread Cookies from Cookies and Cups!
6. Homemade Fortune Cookies: Make your own homemade fortune cookies with this recipe from Our Best Bites! Add some frosting and sprinkles and give them to friends and family for Valentine's Day!
7. Cake Batter Muddy Buddies: Beware! This Cake Batter Muddy Buddie recipe from The Girl Who Ate Everything is very addicting and very delicious! Yum!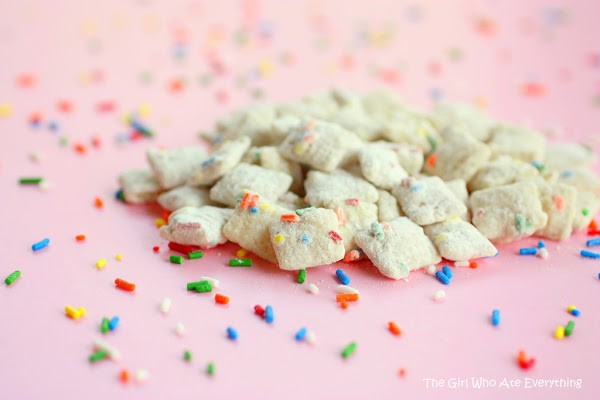 8. Polka Dot Inside-And-Out Birthday Cake: Make cute polka dots on a cake with sprinkles! Get the recipe and instructions from Handmade Charlotte!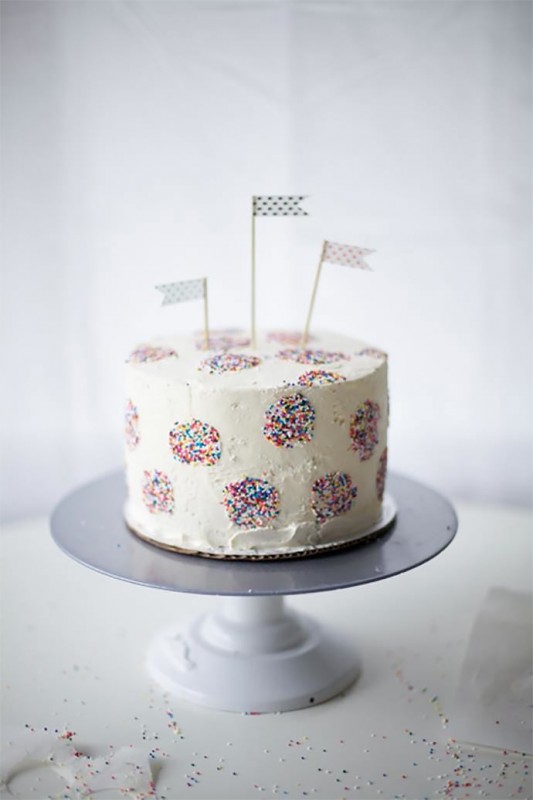 9. Frozen Syrup Ice Cream Sundaes: Add sprinkles, chocolate, and other goodies to make tasty sundaes!
10. Rainbow Sprinkle Cheesecake Cookies: You and your kiddos will go crazy over these rainbow sprinkle cheesecake cookies from Sweet Treats and More!
11. Cake Batter Milkshake: Serve up this cake batter milkshake for a sweet sprinkle treat! Get this recipe from A Beautiful Mess!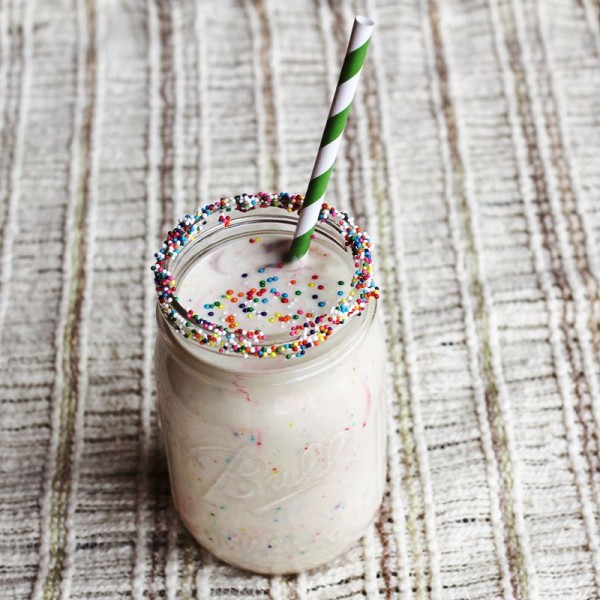 12. Oreo Pops: Dip Oreos in chocolate and cover them in colorful sprinkles to make these tasty pops from Makoodle!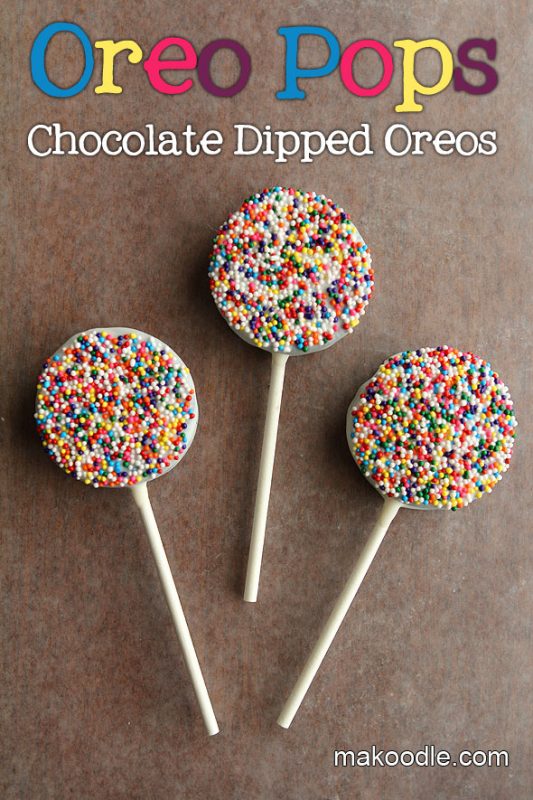 13. Party Popcorn: Get the party started with this sprinkled popcorn snack from She Wears Many Hats!
14. Funfetti Rice Krispy Treats: Gal on a Mission gives us the recipe for these yummy looking krispy treats with tons of sprinkles baked in them!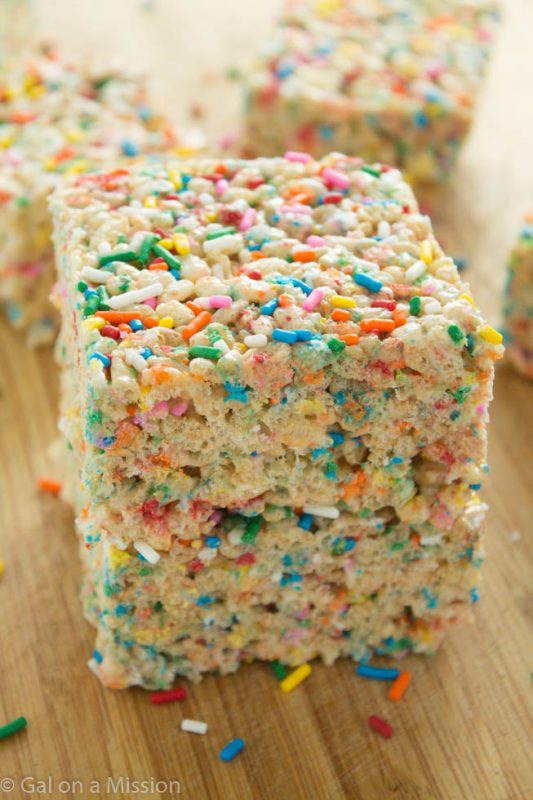 15. Chocolate Covered Pretzels: I would snack on these cute sprinkled pretzels all day long! Recipe from Sallys Baking Addiction!
16. Valentine Heart Cookie Sandwiches: Give some sweets to your sweetie for Valentine's Day with these Valentine heart cookies!
17. Pound Cake Bites: These pound cake bites with sprinkles are little bites of heaven from Shaken Together!
18. Chocolate-dipped Marshmallows: These chocolate-dipped marshmallows with sprinkles are beautiful, easy to make, and super yummy! Recipe from Give Recipe!
19. Rice Krispie Treat Cake: Turn Rice Krispie Treats into a birthday cake with sprinkles and candles!
20. Pumpkin Spice Butterscotch Sprinkle Cupcakes: Celebrate something fun with these sprinkle cupcakes from Picky Palate!
21. Chocolate Covered S'mores: These s'mores treats look delightful! Can't wait to try this recipe from The Pioneer Woman!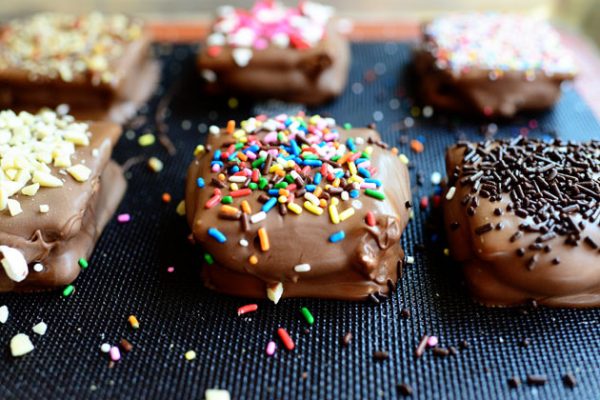 Get your cookin' on with all of these fun sprinkle treats!