We love to share small gifts and delicious treats with our neighbors and friends, showing them we appreciate all they do for us throughout the year! To help make your neighbor gift festive for the holidays, make one of these 3 DIY toppers!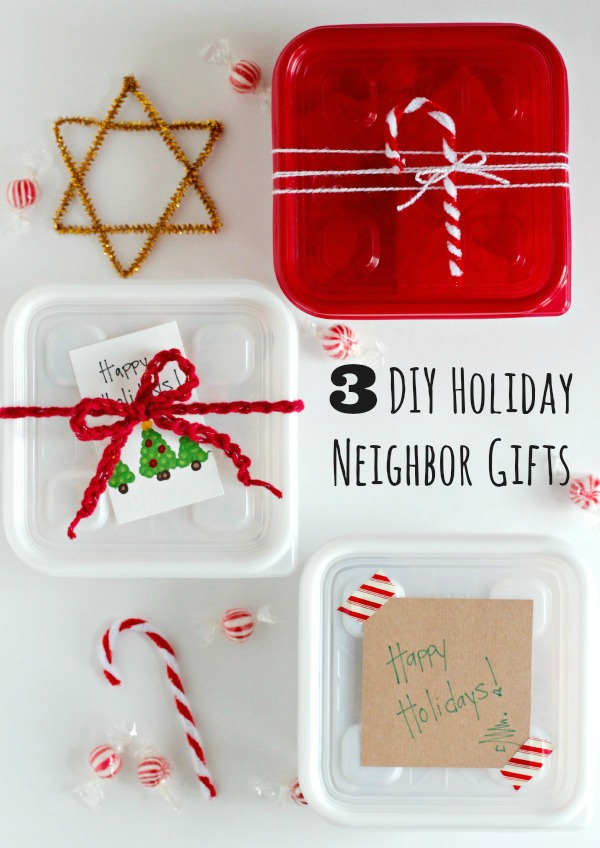 3 Ideas for Holiday Neighbor Gift Giving
Tis' the season for holiday gift giving! We love to make yummy treats and share them with our family and friends. I've got some peppermint bark going into containers to gift to my neighbors. But to help jazz them up a little, I'm sharing 3 ways to wrap containers for festive holiday gifts!
3 Ways to Top Your Neighbor Gift
To get started, you'll need your containers, treats, and gift tags! Read on to see the 3 different ways we wrapped up our delicious treats!
1. Washi Tape:
Washi tape is such a fun and easy way to jazz up your gift giving container, especially with holiday colored tape. Simply wrap the washi tape around your container on all sides. You can get really creative with your design! Criss-cross, stripes, or switch colors for a fun pattern.
Add a bit of torn washi tape to the top with your gift tag. I love the scrappy look of torn washi tape, but you can use scissors to cut the tape for a more precise edge! You can even make your gift tags with washi tape and holiday trees!
2. Pipe Cleaner Gift Tag:
The kids will love helping with this gift giving idea. Pipe cleaners are a perfect kid crafty supply. There's so many fun holiday shapes to make, using them for a festive gift tag to your container. They also double as an ornament as well! Maybe add a few beads to the pipe cleaners too!
Candy Cane: Cut a white and red pipe cleaner in half. Twist them together. Curl them in a candy cane shape.
Star of David: Cut a yellow or gold pipe cleaner in half. Bend one of them into a triangle and twist the ends together. Bend the second half into a triangle, but thread it through the first triangle to create this star, then twist the ends together.
Snowflake: Cut a white or silver pipe cleaner into thirds. Lay them on top of each other and fold them around one another to secure them in place. Curl each of the ends for a fun look!
Once the pipe cleaner ornament is made, simply add them to a bit of yarn or twine and attach them to your container as a gift tag!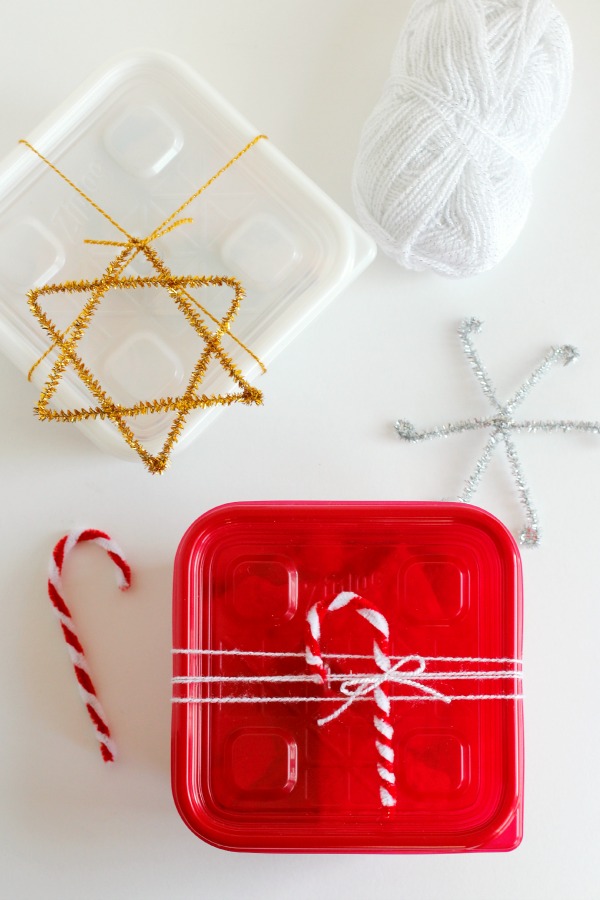 3. Crochet Wrapping Yarn:
This is one of my favorite ways to wrap gifts since I'm pretty obsessed with simple crochet projects! This project works great for those yarn scraps you have lying around and you're not sure what to do with.
Grab a crochet hook, either size H or I, and your yarn. Start the yarn on your hook with a slip knot and chain stitch away! There isn't a set amount of chain stitches you need to make, just long enough to wrap your gift!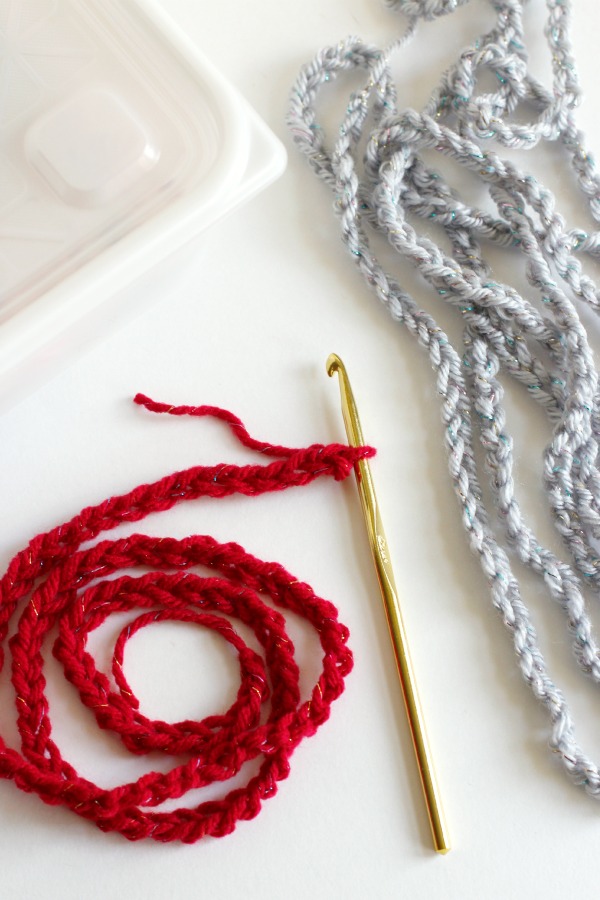 Once you have your length of crocheted yarn, it's ready to wrap! You can wrap your yarn around the sides of the container or across the top. I wrapped my red chain yarn in a bow around the top and I wrapped the silver one around 5 times for a different look, tying a knot in the center. Attach your gift tag with your name on it and a holiday message, and it's ready for your neighbor gift!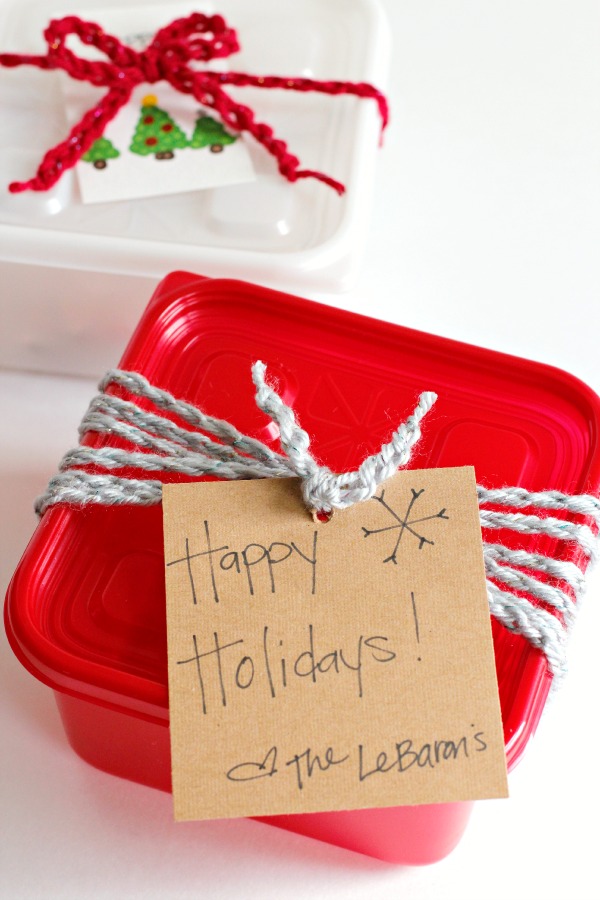 Be sure to visit Ziploc®'s Life Lessons for more holiday inspiration. There are some really great DIY ideas for holiday food and crafts on their Life Lessons site. Visit them on facebook and pinterest for all sorts of festive ideas!
* Thanks to Ziploc® for sponsoring this post. All opinions and craft ideas are my own. Happy Holidays! **Originally posted 12/16/14

I'm partnering with Ziploc® for today's gift giving ideas! I'm featuring their holiday colors, perfect for our neighbor gifts. Here's a little more about Ziploc® products:
Ziploc® recently launched a new line of stackable containers, featuring a "One Press Seal. This allows the containers to be securely closed with one simple press on the lid. These containers are designed to be nested within each other when empty and stacked when full, saving valuable storage space. Available in more than 10 shapes and sizes, the containers allow you to store a wide array of food and household items, all at an affordable price. Ziploc® Containers with One Press Seal also come in holiday colors – red, green, white and blue, as well as six limited-edition holiday designed storage and freezer bags.