Here's my salute to the American Flag with a hand-stitched card. Crafting is one of our favorite ways to celebrate any holiday!  This is a great card for celebrating our Nation's Independence Day this fourth of July. Or it could also be given to an American Soldier's family, paying tribute to those fighting for our freedoms.
American Flag Hand-Stitched Card Pattern
Supplies:
Everything is available at your local craft or fabric store.
Punching Awl
Pattern for Flag to punch: Download this step by step pattern and instructions, then print it out: flag-card-pattern.pdf
Cork board: For punching holes in card – found at kitchen or office store (try a cork hot plate)
Thread: I usually use DMC floss, with all six strands
Needle: Cross-stitch needle #26 for 18-22 count fabric
Cardstock: white piece, accent color piece, folded card piece
Envelope: white envelope that measures, 4 ½ " x 5 ¾ "
Glue: Glue stick, glue dots, spray glue is recommended
Instructions:
For complete instructions on Punching, Stitching, and Gluing this card, please visit my Basic Instructions Post.
Have fun making hand-stitched cards. And here's to our great country, Happy Independence Day!
 More Red, White, and Blue Projects for Your 4th of July:
Looking for even more fun projects that you can make to celebrate this great country's Independence Day? Here are even more fun ideas to try!
Popsicle Stick Button Flag Kid Craft
These adorable flags are made out of popsicle sticks and buttons! They're the perfect way to get your kids involved in the holiday crafting, and they make great decorations after you're done!
Patriotic Paper Lollies
Planning a cookout for the 4th of July? These lollipop- inspired centerpieces will look amazing on your holiday table! Bonus- they're super simple to make!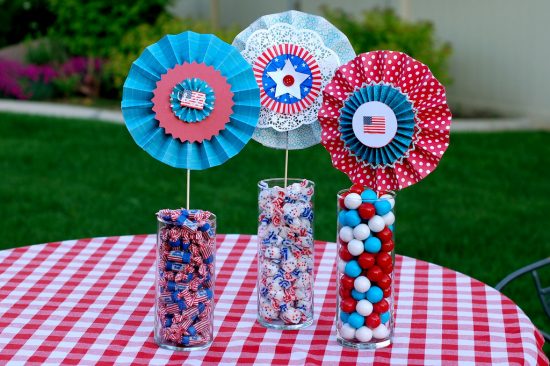 Patriotic Banner Painting for Preschoolers
Even your littlest ones can get in on the crafting fun with this idea! These abstract flag banners would look so pretty hung on a door or porch!
Paper Plate Flag Crowns
These paper plate crowns couldn't be easier to make, and kids just love them! The red and blue color scheme is always a hit, or you could try a greenish color for the kid who wants to be the Statue of Liberty!
Mini Berry American Flag Tarts
No Independence Day celebration is complete without a flag dessert! These mini berry tarts are a fun take on the classic berry flag cake. They're easier to grab and eat, too!