I've just caught wind of the term "digital scrapbooking" and have been thinking to give it a try. I think I'm more handy with a computer than I am with a paper cutter, so this is right up my alley! I've asked Steph from The Daily Digi to give us all a few easy tips for getting started with Digital Scrapbooking!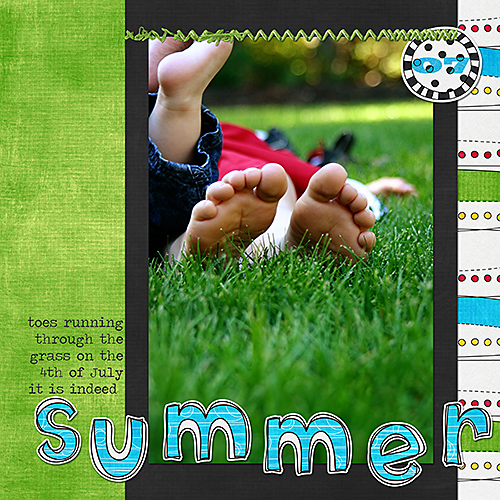 Digital scrapbooking is a really fun and rewarding hobby, especially if you enjoy working with computers.  There are a lot of things about digital scrapbooking that are pretty convenient, such as being easily transportable (I have scrapped in the car, on an airplane, at McDonald's, in a hotel lobby, and on my back porch while enjoying some sunshine), being less messy (no clean up afterward and I can leave a layout open on my computer for days without anyone messing with it), and I can find products to match anything and download them without going out (or I can even make my own products to match my photos).
If you think you might like to give digital scrapbooking a try, here are some tips to get you going:

1. Try software before you buy. Most programs for digital scrapbooking have a 30-day free trial, so you can download the program and try it out for 30 days.  Download the software, install it and try to do a layout or two and make sure you can find the information you need to help you create.  The two programs I recommend most for beginners are Photoshop Elements and ACDSee editor.  You can do just about anything you might want to do in these programs, even create your own supplies. There are tutorials and information out there to make it easier to learn how to make layouts for both of these programs and you won't outgrow them quickly as you learn.

2. Jump in and go for it! I have taught a lot of people how to digi scrap since I went digital almost 7 years ago and it's always interesting to me that there are some people that are afraid of trying it on their own, away from me.  One of the BEST things about digital scrapbooking is the undo button!  If you don't like something or make a "mistake" just click UNDO and everything is happy again!!  As long as you save what you are working on, you can't break it!
3. Make 3 layouts before giving up. When my family moved to a new state this past summer, I was in unfamiliar surroundings.  I would find myself wanting to go to a particular store or restaurant and thinking to myself, "I wonder where that is here, I know where it is at home (where we moved from)…but not here." It was frustrating not to be able to picture in my mind what order I needed to run errands based on location.  Going back to what I was familiar with would have been easier, but I didn't have any other option.  Learning a new computer program is much like that, we feel disoriented, confused, and sometimes frustrated.  If we don't give ourselves another option though, and stick with it, familiarity will come.  If you make 3 layouts and just don't like it, then digital might not be for you.  But, if you can stick with it through your first 3 layouts, you just might find you like it better than your old way!
4. Don't download every freebie. Download some quality freebies to try digital scrapbooking, but be discerning as you download.  Not all freebies are created equally and everything you download takes up memory on your hard drive.  If you don't LOVE it and can't imagine yourself using it, don't spend the time downloading it or the memory resources saving it.  There are a lot of amazing digital designers that create awesome supplies they sale for very inexpensively and the best part is that with digital you can reuse those supplies over and over and over!

5. Back up! Even if you don't scrapbook digitally, you should back up your digital photos.  You should always have your photos (and supplies for digital scrapbookers) saved in AT LEAST  TWO locations.  There a many different ways to do this, burning your data once a week to DVD's, manually backing up to another hard drive, or an online backup service like I use (I prefer this because it is automatic and off site…away from my house).  Find a solution that is right for you and utilize it because WHEN your computer and hard drive die (NOT if) you will be devastated if you don't have another copy of your photos (and supplies for digital scrapbookers).
Here are a few of my other favorite layouts: