One of my most favorite things about being a mother is coming up with new traditions for my family.  Traditions are a great way to create memories and give the family something to look forward to.  However, if I have one piece of unsolicited advice on this subject, it's to be flexible.  If the fun of a tradition starts to wear off and it starts to become a burden, for the love of Pete, let it go.  Otherwise, party on!
Last year, I wanted to make Father's Day extra special; something beyond the tie-shaped card and a new book.  The more I thought about it, I realized that a good competition is what my husband thrives on.  An idea started brewing and a new tradition was born…allow me to share:
I decided that we would start holding an annual competition between the kids and their dad.  The competition would include several games, prizes, and a trophy for the winner.  The same trophy would have to be passed on to the new winner, the following year.
Here's the trophy I picked out: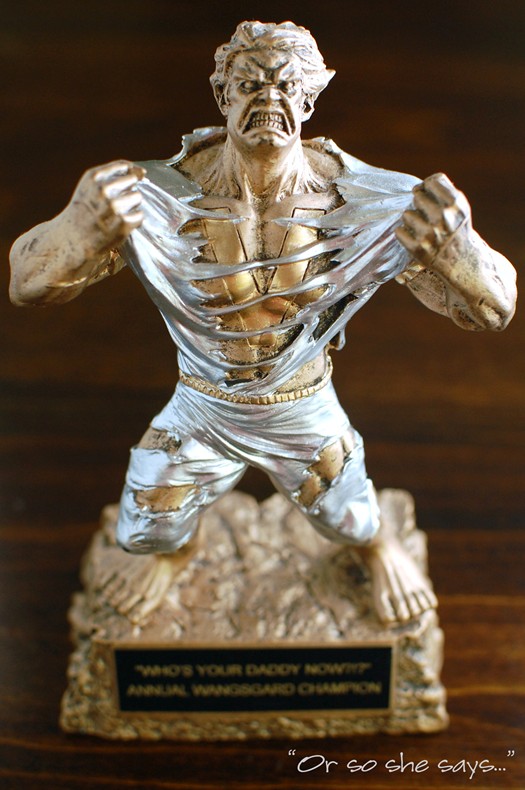 And, the inscription: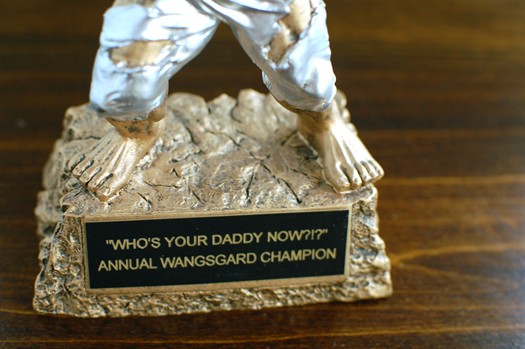 Father's Day Tradition and Competition!
Oh, but…how can the kids EVER beat their dad at anything? Well, I thought of games that focused on the skills of different family members so that each of them could have a better chance at winning something.
Last year, we did badminton for one of our games.  After that, we had a blind-folded ice cream taste-test. I bought several mini containers of Ben & Jerry's ice creams, blindfolded everyone and had them guess what flavors they were tasting. Finally, we played a round of Boochie, a fun family game that kids can easily beat their parents. Turns out that Dad won that year, but not by much.
The kids have been asking for months when Father's Day is going to be here.  They can't wait for our next competition.  I may do some of the same games. But, I might switch things up a bit. Depending on the age of your kids, you could do a myriad of different games:
Father's Day Games:
Hula Hooping contest (My 4 year old daughter would dominate!)
Trivia Questions (I'm thinking of using questions from some of the subjects the kids learned in homeschool this year: Ancient Greece, China, Egypt, etc.  I bet they might know more than their dad!)
Encore (A musical game where you give everyone a word and see who can come up with the most songs with that word in it.  I'll pull words from Disney songs :))  You could also do "Name That Tune".
Drawing pictures, blindfolded.
If your kids are older, any sport would be fun (golf, basketball, football, dodgeball, etc.)
Memory Game (Make doubles of different family pictures, lay them out, and play Memory!)
Tower Building (out of blocks, dominoes, Jenga pieces)
Races (Somersault, crab-walk, hopping)
Video Game (wii Just Dance, Guitar Hero, and Dance Dance Revolution are fun ones!)
Anyway, you get the idea. Whoever wins most of the games, gets the trophy for the year.  But, I also bought several small prizes for the other contestants.
We finished off the night with one of the man's favorite meals, Oven Baked BBQ Ribs (super easy!)
This is a tradition I can see continuing for a long time to come.  Even when the kids are adults, there are still fun competitions that they can have with their dad.  It would be just as fun to have grand-kids competing with their grandfather.  Lots of options!  Feel free to share your ideas for some fun activities, I'm all ears. :)