Our mornings tend to be slow going, I'm not much of a morning person :) The kids are usually waking me up, coming in for a snuggle. We talk about our day and then it's up and at'em to get ready for school. We are usually up in plenty of time to head out the door on time. But for some reason, we were often cutting it close and have even been late to school a couple of mornings. I don't like that feeling of being late or so close to late that we're moving so fast. Lunches get left home, homework is still on the table. It's not good. So I decided we needed a quick fix to figure out how to get us out the door earlier each morning.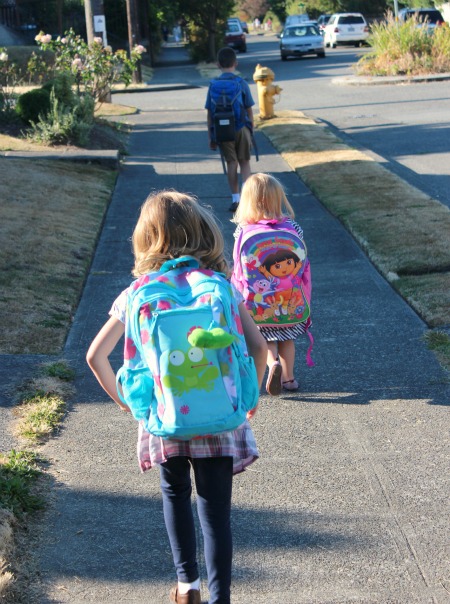 I asked myself what were we doing each morning, with plenty of time to get ready, that wasn't helping move things along? I had to figure out where we could make a change.
Quick Fix to Help Us Get to School On Time
First, timing.
I looked at our morning – when did we wake up, how long did it take to get ready, what time did we need to leave. We walk most mornings to school, so I had to take that into consideration. I found a time we need to leave out the door for when we walk and for when I drive to get us to their school even a couple minutes early.
Second, new rule: Get dressed first!
Before, I was letting my kids eat breakfast in their pajamas. That's when things went wrong. It was like pulling teeth to get school clothes on my kids after they had eaten. They want to play and would forget to get dressed. That is what was making us late.
So I decided to switch it up one morning, having them get dressed first, before anything else, and it worked!! They were dressed, they ate breakfast, and they could play for a bit until it was time for school. Then all we had to do was add coats, shoes and backpacks and we're out the door. Yippee!
With my little 3 year old, we've even picked out her clothes the night before. We line them up on the floor so she can quick get them on and we don't have to take a few extra minutes to make the decision! Sometimes it's the clothing decision that takes a good 10 minutes…what's a girl to wear?! So putting them out works great if we can remember to do it the night before.
Third, consistency.
Being consistent every morning is a big part of how we continue to make it out the door on time. There have been a few mornings when we didn't get dressed first thing and it set us back to cutting it close. So I try my best to have consistency with our new rule and follow through.
Do you struggle with this too? What are you doing to help get to school on time? What is your quick fix for the mornings?
Thank you COOL WHIP Whipped Topping for sponsoring this post.  Join us on Facebook for inspiration and recipes for everyday treats. What you add makes it.