We started using cork trivets for jumbo-sized coasters a few years ago and never looked back. They are easy to craft and will help protect any surface from cup rings. They are the perfect spot for a drippy drink, and maybe even a little snack on the side. We thought these coasters would be great for Father's Day, so we whipped up a few for gifts. Dad's will love 'em!
Our coasters are personalized with swimming schools of fish, but you could use this same technique for geometric designs, home state silhouettes, or even a monogram. Get creative with your design. We put our Testors® Aztek® airbrush to work for a mottled, underwater effect. These are fun and quick and so cute!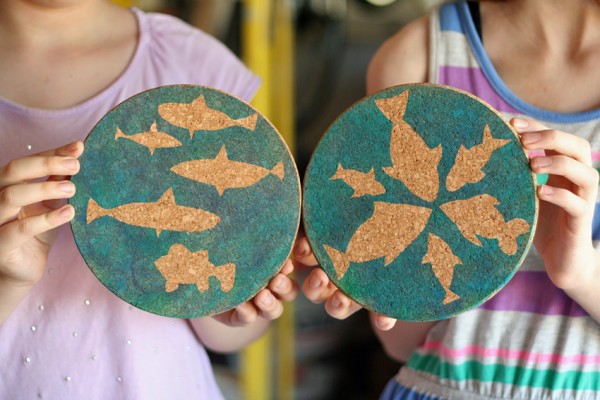 Airbrushed Fish Design Coasters
Supplies:
Cork trivets or coasters (Ours are from IKEA; also check the kitchen or garden section of a home improvement store)
Adhesive shelf liner (Contact® paper)
Testors® Aztek® Airbrushable acrylic paints (we used blue, turquoise, purple, and green opaque paints)
Instructions:
First, create some fish stickers to use as stencils. We drew a variety of fish right on the Contact® paper, then chose our favorites to cut out.
Play around with your design before sticking the fish cut-outs to the cork trivet. The shelf liner can be repositioned, but you don't want to move it too many times. It needs to stay firmly stuck down while you're painting.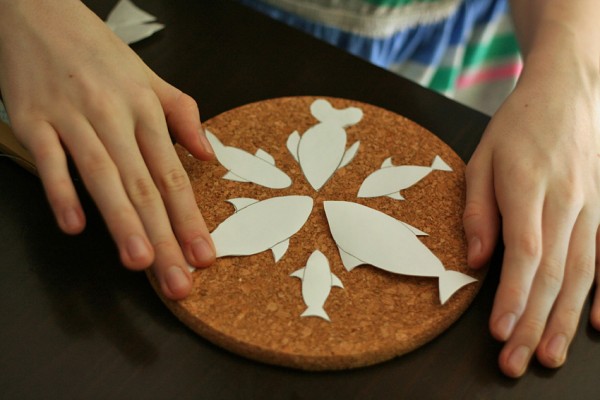 Before you begin painting, be sure to protect your work surface. To mimic underwater colors, we applied various layers of color to our coasters. We started with a light layer of blue, followed by turquoise. To save on clean-up time between colors, we each worked with the same color of paint before moving on to a new color.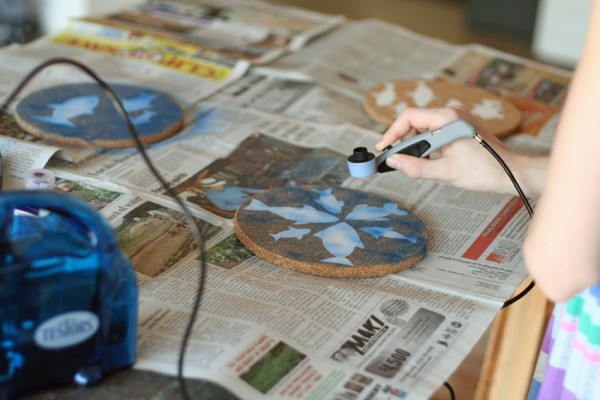 The girls also added a little spray of purple and green for even more variation in color. It's so fun to play around with the airbrush and build layers of color!
Let the coaster dry for a few minutes, then remove the fish stickers. This is always the "ooo-aah" moment! Aren't they beautiful? I love how these turn out.
Pair a coaster or two with some of dad or grandpa's favorite drinks, and you have the perfect kid-made gift for Father's Day.
We hope you love this project. Happy Father's Day to all of those great dads out there.