Fries and potato wedges pair with just about anything from grilled sandwiches, to hamburgers, and my favorite, fish and chips. They are a staple here especially over summer when we are grilling more often. I'm going to show you my really easy seasoned baked potato wedges, but you might want to try different flavors by making your own spice blend.
Seasoned baked potato wedges
These seasoned baked potato wedges are so easy to make that it's the perfect project to get the kids into the kitchen to help with. They can make the spice blend, wash the potatoes, and older kids can help by slicing the potatoes (with supervision, of course).
Best potatoes to make wedges
Russet potatoes
Yukon gold (which we used for this recipe)
Red potatoes
I went with Yukon gold potatoes for this recipe because they don't take quite as much work as Russet potatoes which you really need to wash and scrub with a brush to get all of the dirt off them. Yukon potatoes or red potatoes just need to be washed.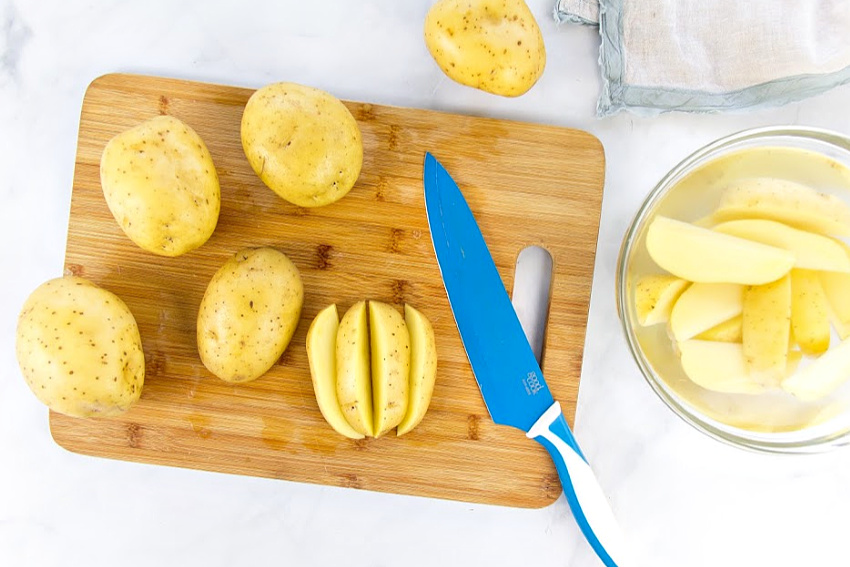 To cut the potatoes to make perfect wedges slice them through the middle on the longest thinnest side. Place each slice with the flat side down on the cutting board and slice that into four wedges (see photo above).
Soak the wedges in water to remove the starch for about 30-minutes. Make sure to pat dry thoroughly before you drizzle olive oil over the top and toss them in the spices.
While the potatoes are soaking it's the perfect time to make the seasoning for the wedges. You can try all kinds of combinations of spices, but my favorite is fairly simple with garlic powder, onion powder, paprika, salt, pepper, and fresh parsley.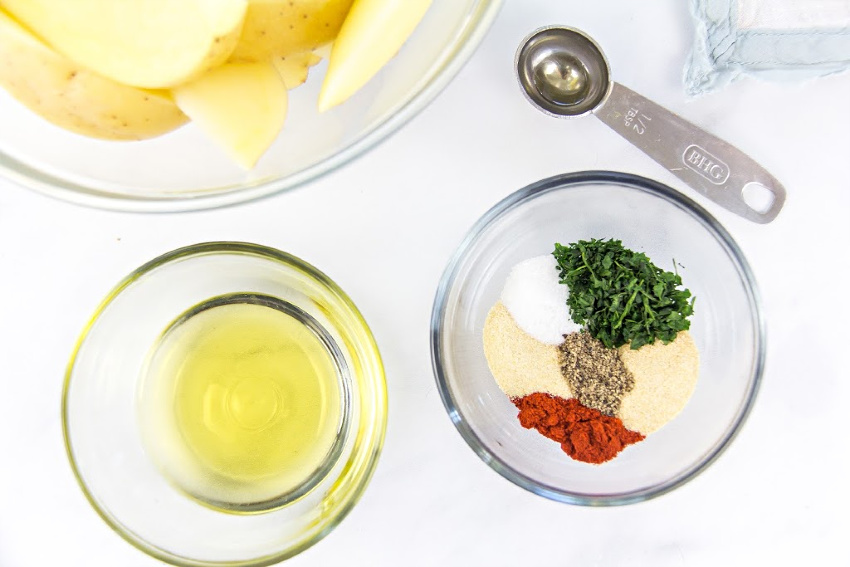 Once your potatoes are completely dry, drizzle the olive oil over the top, add the spices and toss to combine. Lay them out on a baking sheet, making sure they are separated and bake them for roughly 35 minutes, turning halfway through.
Tip: use as little olive oil as possible, it will help the spices stick, but the more you use the less crispy your wedges will be.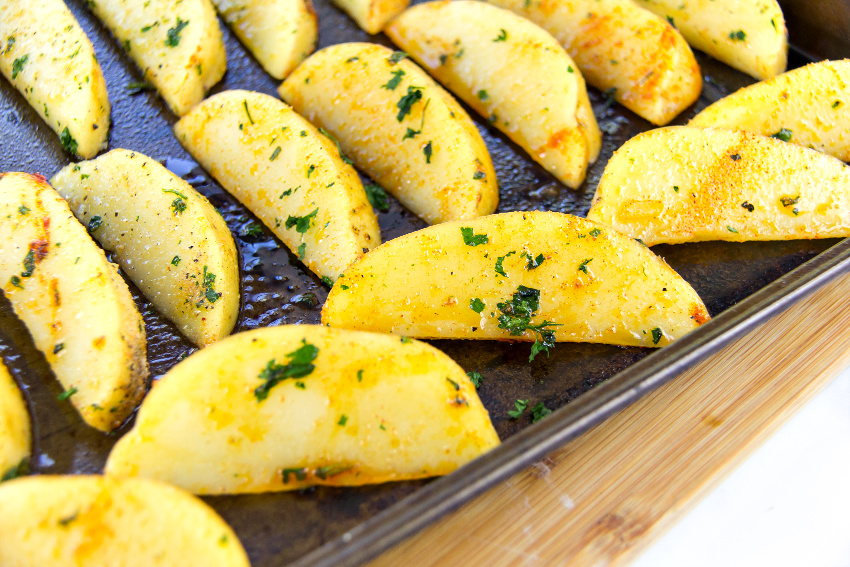 Serve immediately paired with your favorite protein and condiments.
Condiments to Pair with Baked Potato Wedges:
Ketchup
Mayonnaise with sweet chili sauce
Garlic aioli
Barbecue sauce
Ranch dressing
Tartar sauce (especially if you are serving your wedges with fish or other seafood)
Malt vinegar (my favorite when serving wedges or fries with pulled pork)
Crumbled feta cheese
Please pin post for later: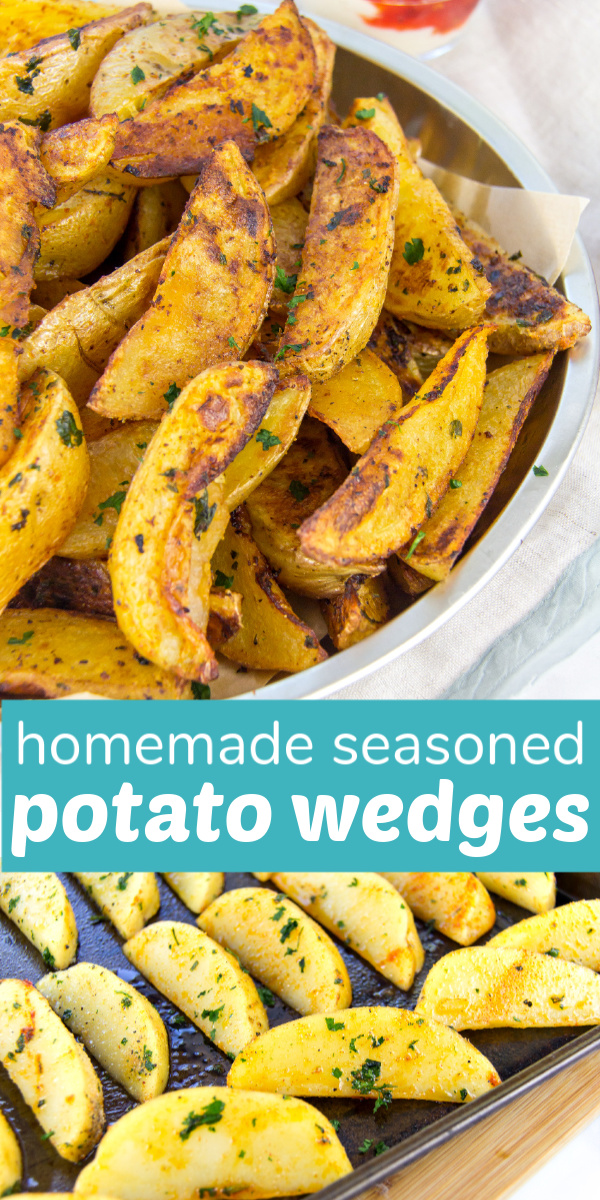 Homemade Seasoned Baked Potato Wedges
Easy-to-make potato wedges that are seasoned and baked.
Keyword:
baked fries, potato recipe, seasoning for fries, side dish
Ingredients
2

lbs

Yukon gold potatoes

2

tbs

olive oil

1

tbs

fresh parsley

chopped

1 1/2

tsp

paprika

1

tsp

garlic powder

1

tsp

onion powder

1

tsp

salt

1/2

tsp

pepper
Instructions
Preheat the oven to 400F.

Wash the potatoes and then slice into 8 wedges.

Soak the potatoes in ice cold water for about 30-minutes.

Completely dry the potatoes and place in a dry bowl. Drizzle olive oil over the top and add the spices tossing to combine.

Spread the potatoes in a single layer on a baking tray (you can add parchment paper too if you like), and then bake for approximately 35-minutes turning once after about 20-minutes.

Serve immediately with your favorite protein or condiments.