Make this adorable homemade heart bouquet card and give it to someone special this Valentine's Day! Decorate each heart in their own unique way, or you can write a special note on each one like conversation hearts – BE MINE!
For holidays and birthdays, homemade cards are my favorite! With just a stack of colored paper, markers, and glue, my kids and are making an adorable bouquet of hearts card for Valentine's Day. We will make some to share with friends and family, but I'll definitely be keeping one for myself!
Bouquet of Hearts Card
Supplies:
white construction paper or card stock
colored paper
markers
ribbon
glue dots or white glue
Instructions:
Cut a big pile of hearts from the colored paper. Ours were various shapes and sizes, but small enough to fit quite a few on our card. The folded-paper method for cutting hearts is perfect for this project – your kiddos can get lots of practice with this technique!
I like to find ways to extend simple craft projects and make them even more engaging. In this case, we spent a good deal of time adding details to our paper hearts. We added lots of doodles with a black pen, but you could also use colored markers, stickers, or even glitter! Writing names, words, or lovey-dovey messages on the hearts would be fun, too.
Fold a piece of sturdy white paper in half to make a card. With a green marker or crayon, draw some flower stems that overlap and meet in the middle.
Now it's time to add the paper hearts. Attach each heart to the card with a single glue dot (or a small dot of glue) in the center. This makes the hearts easy to overlap and arrange, plus it gives the card some interesting pop-up dimension. Continue filling in the top of the card with hearts for a full heart bouquet.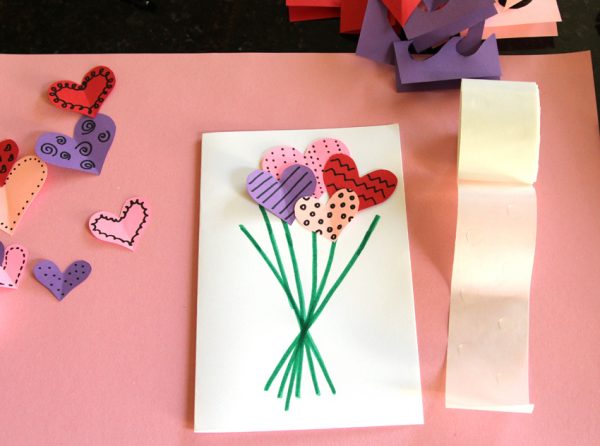 For the finishing touch, tie a small piece of ribbon into a bow and attach to the drawn stems. So cute!
*Originally posted 1/16/17