I saw this fun idea for an ice cream treat one hungry night while watching Everyday Italian. These are a perfect little dessert for the whole family. Get your kids in on the making of these ice cream pops. They will love dipping the ice cream balls into the chocolate and nuts. Add other toppings that you think might be good too!
Chocolate Dipped Ice Cream Pops
First you will need some vanilla ice cream, chocolate chips for melting, chopped nuts – mine are walnuts, ice cream scoop, and popsicle sticks. Giada uses hazelnuts and fancier vanilla ice cream, but the effect is still the same.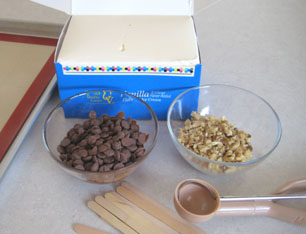 Scoop out your desired number of ice cream balls and put on a plate. (You are supposed to put the plate of ice cream balls back into the freezer to get frozen again, but I have absolutely no room in my freezer – time to clean it out.) Because I didn't re-freeze my ice cream, I had to shape them with my hands to put on the stick. I made sure to wash my hands first. Don't you love how the food shows always make sure to show that they washed their hands, so I took a picture of me doing it too :)
Then once your popsicle stick is in the ice cream (preferably re-frozen again), dip it into the melted chocolate. Next, dip it into the nuts. If you wait too long to dip it in nuts, the chocolate will harden, not letting the nuts stick. We made a few without nuts, as I am not a big fan of nuts in my ice cream. Now place the plate of Ice Cream Pops back into the freezer until you are ready to eat them.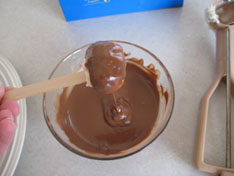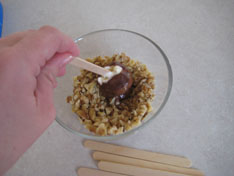 We ate these ice cream pops right away, but I am planning to make some more for my Book Club that I am hosting tomorrow. A yummy homemade ice cream treat.
Just keep them in your freezer until ready to serve! Don't they look incredibly delicious?