It's the fall season, and you know what that means….!!! Time to crochet up a Cozy Chunky Crochet Cowl! Don't you just love this cold crisp weather?? It's the best for crocheting indoors and wearing your cozy scarf outdoors!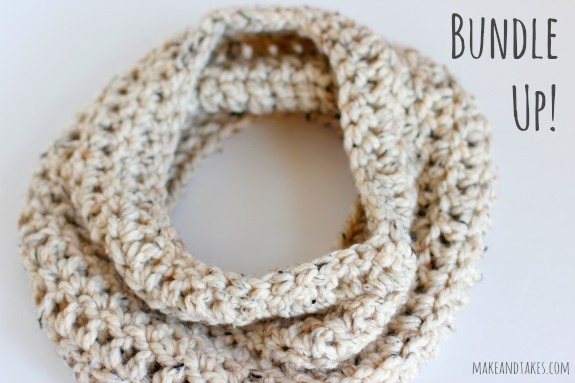 I love this pattern below, it's perfect for getting all warmed up for the cold weather. And it's such a simple scarf to crochet, you'll love how fast you can make these using chunky yarn. You can whip up a whole bunch of these for family and friends. They make great handmade gifts for the holidays too!
Chunky Crochet Cowl
Crocheted scarves are my favorite projects to make, especially for the winter season. For today's Crochet-A-Day series project, I'm sharing my quick and easy one skein Chunky Crochet Cowl. It's an infinity scarf crocheted in the round, making it fun and easy to wear anytime, anywhere!
TIP: need to brush up on your crochet skills? Check out our beginner crochet series!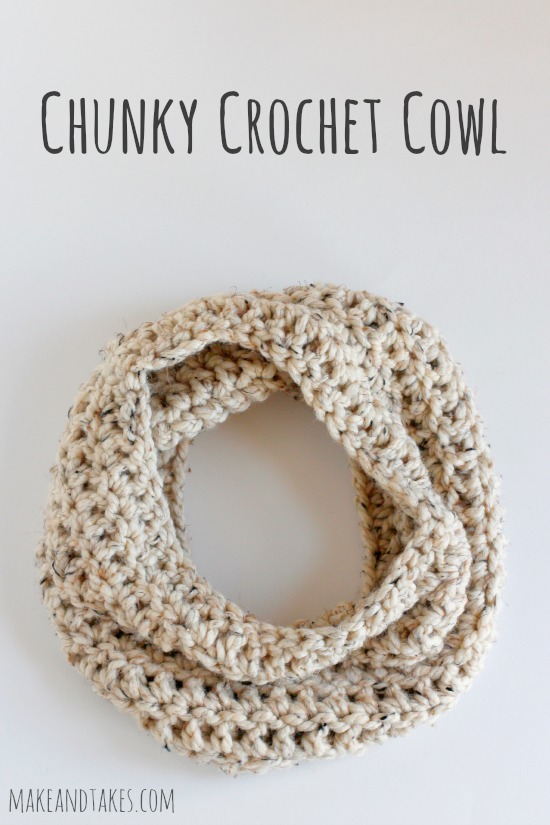 How to: Chunky Crochet Cowl
My new obsession with scarves is using chunky yarn, it makes it super quick to whip up a scarf or a cowl in a day. For the cowl pattern below, you only need one skein of yarn. I love using Lion Brand's Wool-Ease Thick and Quick. It's the best!
Supplies:
1 skein chunky yarn
crochet hook size N
scissors
crochet needle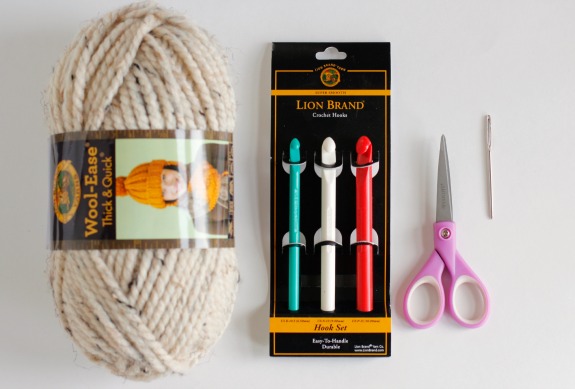 NOTE: for the following pattern, I'm crocheting in the round. You can crochet this as a long rectangle and then whip stitch the ends together to form the circle.
Instructions:
1. Chain 45 stitches.
2. When you get to the end of the chain, straighten out your chain (no twists) and slip stitch through the first chain.
3. Chain 3.
4. Round 1: Double crochet into the 5th stitch from the hook (including your chain 3). Continue to double crochet in each stitch in the round.
5. When you get to the end of the round, slip stitch through the top of the first chain of 3 in this round to join the circle.
NOTE: You can turn your yarn after each round, but I don't in this pattern. It's okay if you do, it just gives it a different texture.
Here's what it looks like with just one round. It's kinda cute just like this. You could turn it into a small necklace or neck wrap. Add a flower or heart to embellish!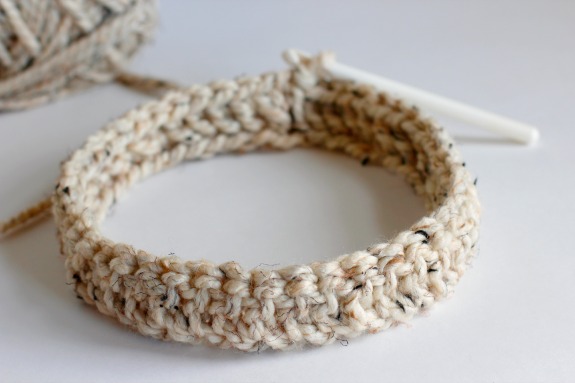 6. Round 3-8: repeat steps 3-5 for each round until you get to the height you'd like.
Here is what 6 rounds looks like. This is a pretty good height for a more mellow cowl. Although it doesn't bend and chunk as well as the taller cowls.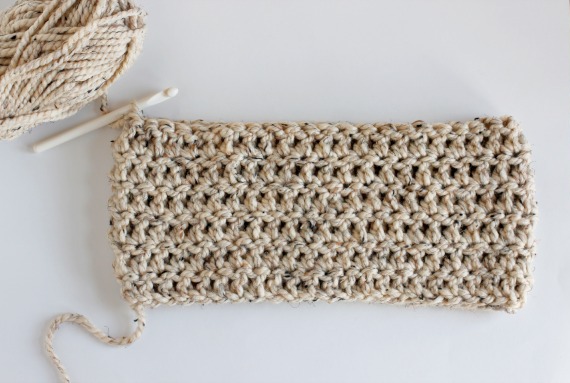 Here is what 8 rounds looks like. This is my favorite. I could go 1-2 more rounds with the rest of my skein, but I really like the 8 round height for a chunky cowl.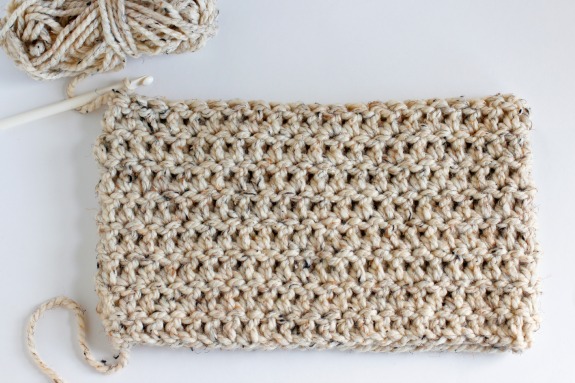 7. Once you have it at the height you want, tie of your end, trim and hide your tails with your crochet needle.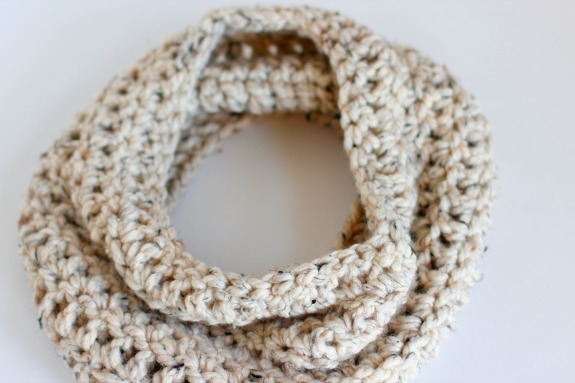 NOTE: To double your cowl to wrap: chain 100 stitches, and follow the pattern above. This will make it so you can wrap and double up your cowl. This would work with 5-6 rounds really well.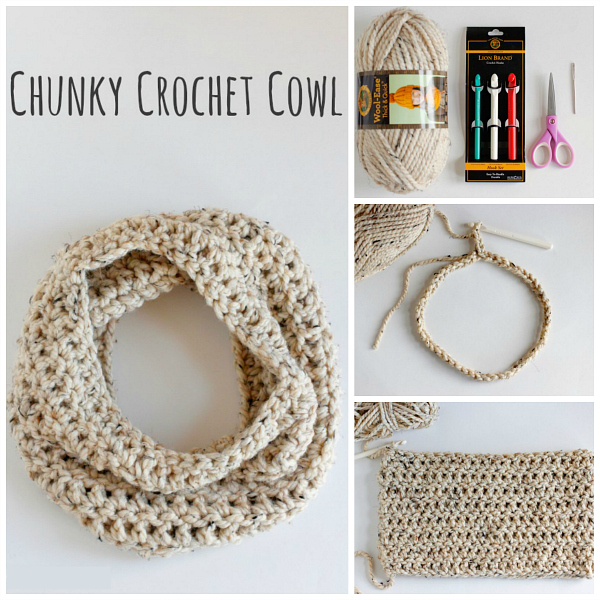 It's ready to wear!
I've been making loads of these scarves and giving them to everyone I know. I can now make one in an hour or two, super quick. Below are 2 different style scarves. They are both based off the chunky V-stitch cowl pattern from the amazing Jennifer of Fiber Flux, but crocheted in the round, one with 5 rounds and one with 8 rounds.
Pin this post for later: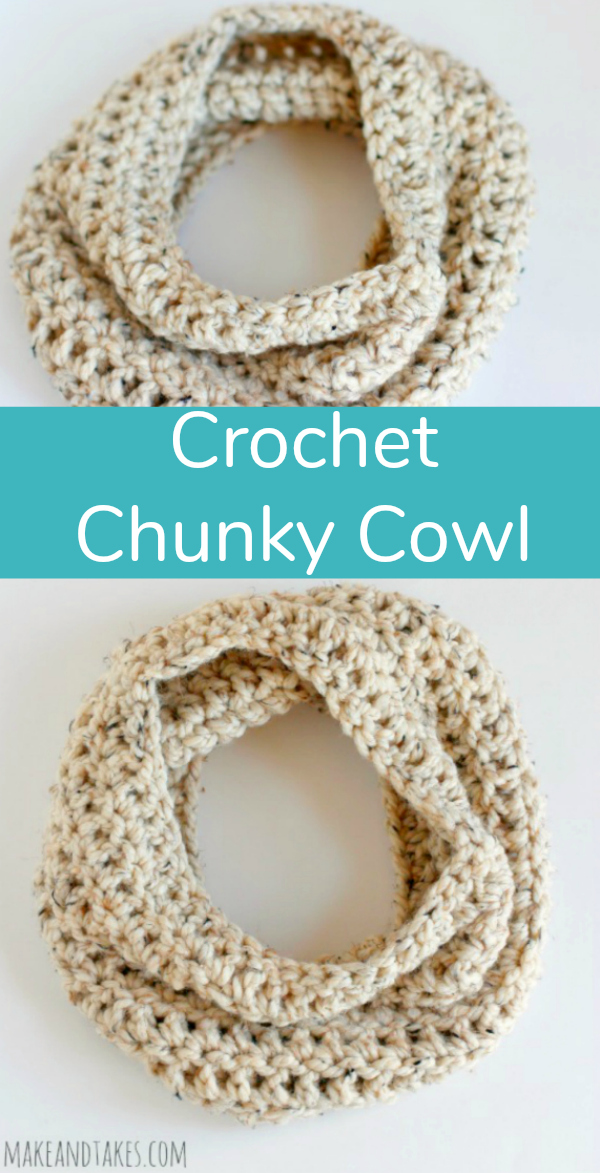 Believe me, once you start using chunky yarn, you'll never stop! Now go crochet today!
Be sure to head over to Lion Brand Yarn to see more tips and tricks on their blog, as well as the variety of fantastic yarns they have available. You're going to love Wool-Ease Thick & Quick!!
**Thanks to Lion Brand Yarn for sponsoring this project. Find them on facebook, twitter, and pinterest for yarn project inspiration! 
**Originally posted 02/21/14