Homemade desserts are a must-have in our house. Everyone seems to have a sweet tooth after eating dinner, but with one kid gluten-free I find myself recreating favorites dishes into gluten-free recipes so he can enjoy them too. This homemade gluten-free classic cheesecake was a big hit.
How to make a gluten-free classic cheesecake?
The filling of a cheesecake is already gluten-free. If you have a favorite recipe, go ahead and make that, but follow our instructions for a gluten-free crust. If you don't have a cheesecake recipe that you regularly use, then print ours below.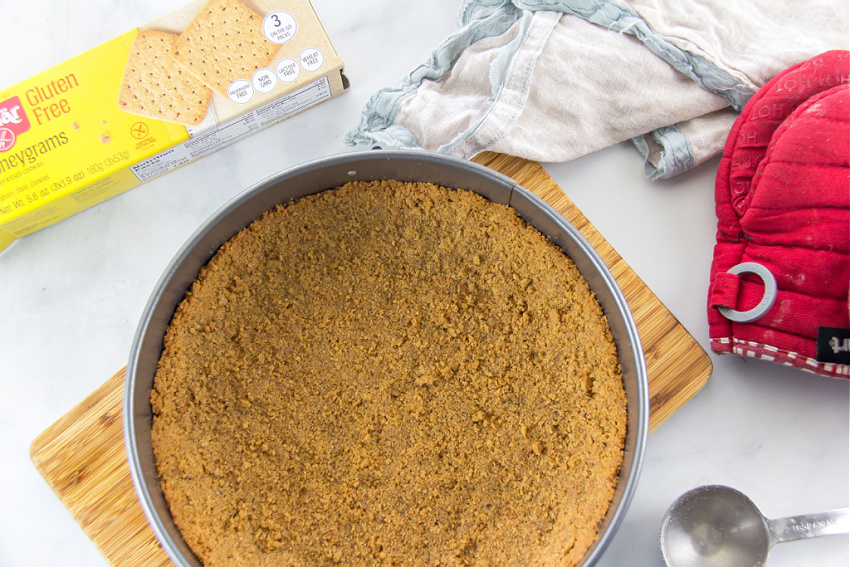 To make this crust we combined both light brown and granulated sugar with Schar gluten-free honeygrams. They are my son's favorite brand of gluten-free graham-style crackers that we normally use for s'mores nights.
You don't need to combine both light brown and granulated sugar as we did. The base can be made by adding just granulated sugar, or light brown sugar.
Why does cheesecake get cooked in a water bath?
Adding water around your cheesecake not only helps to stop the cheesecake from cracking but also helps it to cook evenly without browning on top.
To do this without getting water in your cheesecake, wrap your springform pan in an oven bag, such as one you might use for roasting a turkey. Put the pan with the bag wrapped around it in the center of a larger roasting pan. Pour boiling water around the bag, making sure that none gets inside. The water should come to at least one inch up the side of the springform pan to halfway up.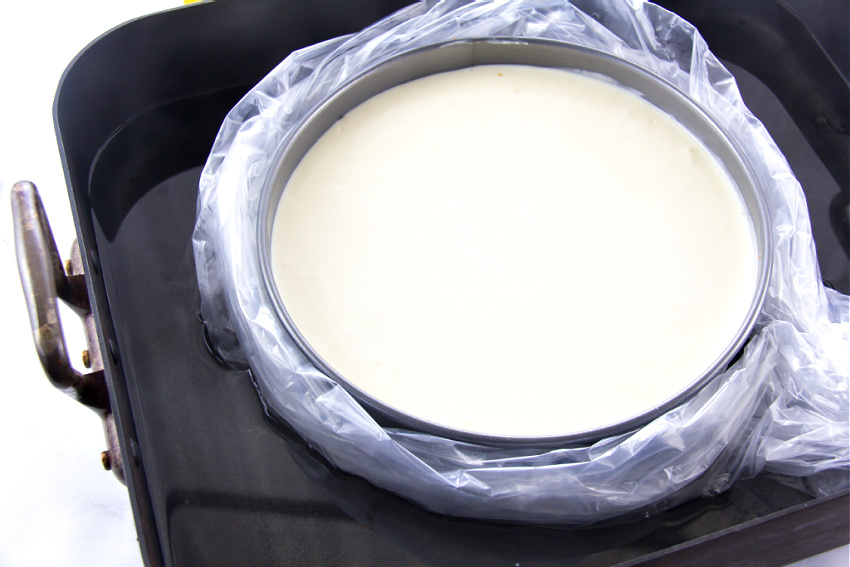 How long does it take for a cheesecake to set?
Once the cheesecake has baked in the oven for about an hour it's important to turn the oven off, crack open the door and leave the cheesecake inside for about another hour.
The cheesecake can then be removed from the water bath and left on a board or wire rack on the counter to continue cooling until it reaches room temperature.
If you are planning on eating your cheesecake the same day you will need to make it first thing in the morning so that it has at least 6 hours in the refrigerator. Try to make it the day before though if you can so that you can refrigerate it overnight.
Toppings for cheesecake
You don't need to add toppings to your cheesecake because it tastes amazing as is. If you do want to though here are a few ideas for you:
Fresh fruit
Lemon curd
Caramel sauce
Freshly whipped cream
Fruit compotes
Confectioner's sugar
White, dark, or milk chocolate shavings
Please Pin Post For Later:

Gluten-Free Cheesecake
Keyword:
cheesecake, dessert, gluten-free
Ingredients
11.2

oz

Gluten-free graham style crackers

We use 2 packets of Schar brand

2

tbs

Light brown sugar

2

tbs

Granulated sugar

1/2

cup

Melted unsalted butter

4

pkgs

Cream Cheese

8oz packages, at room temperature

1 1/4

cups

Granulated sugar

1/2

cup

Sour cream

room temperature

2

tsp

Vanilla extract

4

large

Eggs

room temperature (beaten)
Instructions
Put the graham crackers into the food processor and blend until they resemble crumbs. Add light brown and granulated sugar along with melted butter and stir to combine.

Press the mixture into the bottom and a little up the sides of a 9" springform pan and bake for 8 minutes.

Set aside to cool while you make the cheesecake filling.

Reduce oven heat to 325F.

Mix cream cheese with an electric mixer for a few minutes. Add sour cream, granulated sugar, and vanilla and continue mixing. Scrape down the sides of the bowl.

Slowly add the eggs to the bowl while mixing on a low speed. Mix until the eggs are just combined. Don't over mix your filling.

Pour the filling over your crust in the pan.

Wrap an oven bag around the pan and place it into the center of a roasting pan. Pour boiling water around the bag making sure none gets inside the bag.

Bake your cheesecake for 60 minutes. Turn off the oven, crack open the door and leave to rest inside the oven for another 60 minutes.

Remove from the oven and the water bath and cool on the counter until room temperature. Cover and refrigerate for a minimum of 6 hours, but I prefer to refrigerate overnight.