Are you in charge of your child's classroom holiday party at school? I've gotcha covered. I looked around and compiled a few fun and easy games, crafts, and activities to play for some winter party fun! These ideas are sure to be a hit with all of the students.
Classroom Holiday Party Ideas
Simple Jingle Bell Holders: Make these super simple jingle bell shakers! They would be fun to make and then play along with their favorite holiday song.
Smiling Snowman Envelopes: Use up your old envelops by turning them into a fun new craft. These smiling snowmen are sure to delight! Perfect for a classroom setting!
Coffee Filter Snowflakes: Coffee filters make the perfect sized snowflakes. Cut up a few of these and hang them up in the classroom for the kids to display.
Shredded Paper Winter Animals: Shred up some unwanted paper and use it as paper glitter for a fun winter animal art piece.
Winter Wonderland Magazine Collage: Get out the old magazines and create a wintry scene. The kids can get creative as they make a holiday art piece.
Games for a Holiday Classroom Party:
Snowflake Tic Tac Toe: Create different shapes and colors for these snowflakes to use as pieces in a tic-tac-toe board!
Snow Mitten Letter Scramble: Add letters to the shapes of snow mittens for kids to find words or letters, or match for a game.
Paper Tube Bobsled Race: Using a old wrapping paper tube, cut it in half to create a fun bobsled game for a holiday party.
Snowy Obstacle Course – the kids take a cup, spoon, or toothpick of snow (real snow or marshmallows or cotton balls) through an obstacle course around the room and not drop what they're holding. They must make it to the other side and add their item into a bucket or Santa hat or miniature sleight or snow man boot. This game can have teams or just everyone takes a turn.
Treats for a Classroom Party:
Snowflake Tortilla Snack: Have the kids make snowflake shapes out of tortillas and toast them up for a yummy treat.
Treat Plate Craft: Punch holes in the sides of paper plates to create cute treat plates with ribbon! Thread these around the plates for a great small motor skill.
Dipping Desserts: Melt some chocolate and dip all kinds of desserts with the kids. They'll love to choose their favorite item to dip.
M&M Taste Testing Graphs: Gather all the different flavors of M&M's for a graphing game. And once they have their findings, these are a perfect little treat!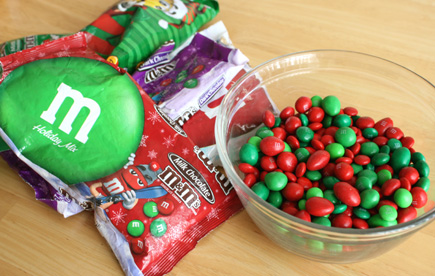 SaveSaveSaveSave