When I was teaching elementary school, these stained glass candle drawings were a project I used to do with my class every winter. Nothing calms a room like some zen coloring time! If your kiddo hasn't made something like this at school, this is a perfect quiet activity during the hustle and bustle of December.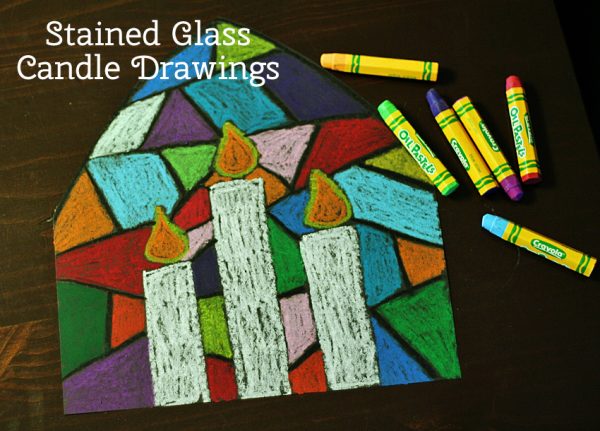 Colorful Stained Glass Candle Drawings
All you need are oil pastels and black construction paper to make these colorful candle masterpieces. Decide on a shape for your stained glass window, and sketch it out. Trace over your lines with a black pastel, but don't worry about cutting off the extra paper yet.
With the pastels, start with drawing and coloring in a few candles – we went with three, but you choose your number! I like making white candles because they really pop against the colorful background. Draw and color some flames, too.
Next, use a black pastel to draw lines, dividing the background into smaller shapes. Work carefully close to your candles. The pastels aren't great for tiny spaces, so don't make your shapes too small.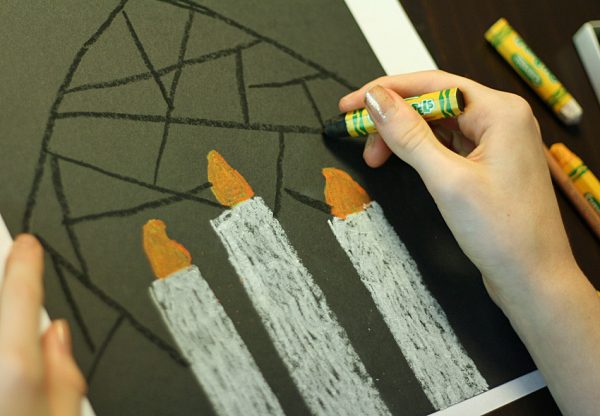 Now it's time for coloring! Fill in each background shape with the bright oil pastels. We tried not to touch the black pastel lines too much, since they will smear a bit. A little smearing just adds to the charm!
My girls completed their candle drawings in one sitting, but you could certainly work on this over a few sessions if your kiddo runs out of coloring stamina. When your drawing is finished, cut out your window shape and admire!
These are beautiful, bright decorations for the dreary days of winter. Happy crafting!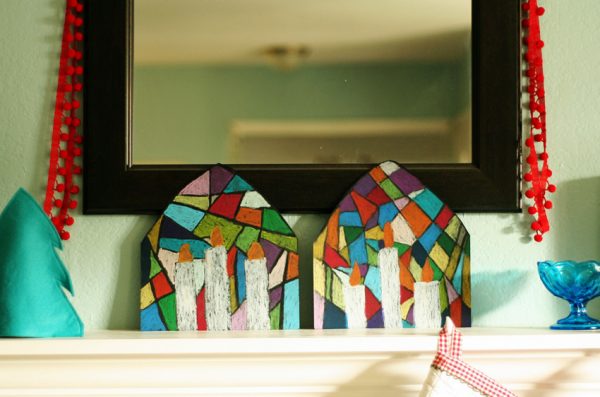 Check out more stained glass art projects here:
SaveSave