It's just a few weeks away for the Winter Olympic Games and we're making crochet Olympic rings to celebrate. Whip up a few of these as you watch the your favorite winter sport. What's your favorite? I love the bobsled!
I've always wanted to try crocheting with pipe cleaners and these Olympic rings seemed like the perfect opportunity to go for it. It was so fun, a lot easier than I thought it would be. The possibilities are endless. I think I'll be crocheting letters, hearts, and all sorts of fun shapes.
Crochet Olympic Rings
These rings can be a party display with ribbon for a banner, glued to paper for a framed picture or greeting card, or even let the kids toss them around for a few winter games!
Keep reading to see the full tutorial…
Supplies:
yarn in Olympic colors – blue, black, red, yellow, green
pipe cleaners in Olympic colors
crochet hook – size I
scissors
crochet needle
1. For the rings shown here, I cut my pipe cleaners in half to 6 inches long. Form them into a circle by twisting the two ends over one another.
2. Make a slip knot with your yarn.
3. To start the yarn onto your pipe cleaner: put your hook through the circle, add the slip knot to the hook, and pull the hook back out of the circle. Chain one stitch to secure it.
4. Continue to single crochet all around your circle.
5. Single crochet 4-5 stitches and then press them together down the circle to make them tight on the ring. You can keep them loose and spaced out, but I like the tight look, adding as many single crochet stitches as I can.
6. Finish all the way around your circle and add a slip stitch through the first stitch you made. Cut your yarn and tie it off. Hide in your yarn tails with your crochet needle.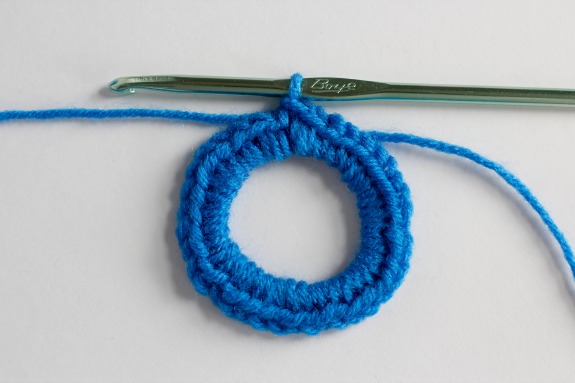 Now crochet 4 more to make all 5 colored rings. They make for a fun Winter Olympic Games display!