It's a Dinosaur Birthday Party! They are big, loud, and stomp around, just like my son did on his birthday a couple years back. Check out a few of the fun things we did to celebrate his birthday Dino style. If your kids love dinosaurs, I think you're going to love these ideas.
Dinosaur Birthday Party Ideas
Invitation:
Make this fun dinosaur birthday party invitation. Cut out an oval shaped piece of paper. Cut a zig-zag down the middle of the oval to represent a cracking egg. Attach the two halves together again by one brad fastener at the edge. You can glue a dinosaur shape onto the back of the bottom egg. Write all the party details on top of the dinosaur or on the back, and children can open the cracked egg to see a surprise.
Dino Feet:
Give each child a set of dinosaur feet. They can be worn during the party or given as part of the party bag at the end. These feet are made with craft foam. Download this printable pattern to trace onto the craft foam. Then attach little white craft triangles, using glue dots, for the toes. Dinosaur Foot Pattern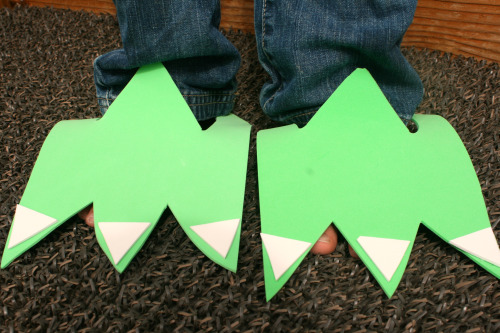 Food:
Dinosaur shaped chicken nuggets are an easy snack for the party
String cheese can be pretended to look like dino bones
Dinosaur Juice – Sprite mixed with mint chocolate chip ice cream
Cake:
For our party cake, I placed a small plastic dinosaur on the top of each chocolate cupcake. But I also love these ideas for fun dinosaur themed cakes:
Games:
Tough Tail Attack – With this crafty dinosaur tail, have the child hold the straps around their waist. The other kids build a tall tower with blocks, then each tries to knock it down using their tough tail! For the tail, I stuffed a lot of plastic grocery bags into a large kitchen garbage bag. I then tied it around and around tight with yarn to form the tail. The straps of the garbage bag are what the child can hold around their waist.
Dinosaur Dig – Fill a large bucket with play sand. Bury enough small plastic dinosaurs in the sand before you let the children dig. Place the bucket outdoors or on top of a large plastic tarp to help catch any flying sand. One at a time, have a child use a sand shovel to dig for a dinosaur. Give each child a turn to find the hidden toys.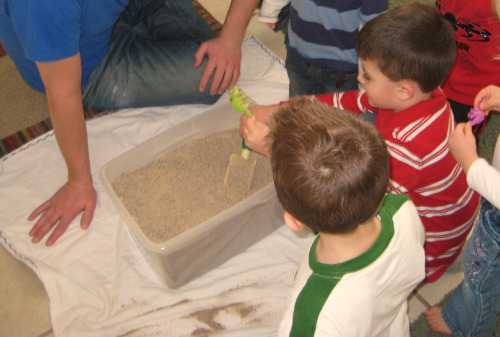 Host Your Own Dinosaur Museum – If your child collects a lot of dinosaurs, you could host an in-house Dinosaur Museum. It could be similar to this Rock Museum, and have some items for display only and some that are hands on.
Dinosaur Egg Match – Fill a plastic egg with a small dinosaur toy. Hide them around the room. Give each child a card that shows the design of their egg. Have them go on a dinosaur egg hunt, looking and retrieving only their specific egg.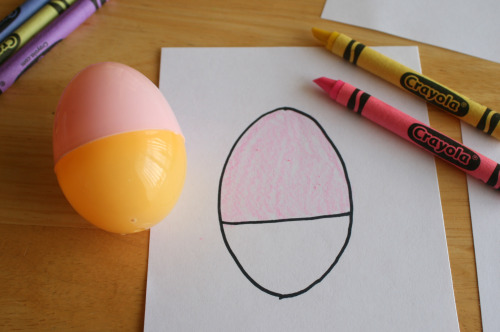 Party Bags:
Fill some brown paper bags with treats for them to go home with. They can take the dino feet and small plastic dinosaurs they got from the party games as well. You can also make these cute Pipe Cleaner Dinosaurs that the children could take home.
Any roaring and stomping dinosaur birthday parties at your house?
SaveSaveSaveSave