Okay, let's be honest, when do parents use fancy glasses? Most of us see delicate glasses and think "My kids would break those in a second!" and we tend to avoid buying them or even using the ones we own.
Recently, I've found a bit of a solution and a great use for my "fancy" glasses: I turn them into votive holders! So, I experimented with glass painting and I played around with some techniques to give my "fancy" glasses a little colorful personality. I painted the glasses painterly style and then popped some candle votives inside. The result definitely channeled my inner-child-of the-80's and made the room smile.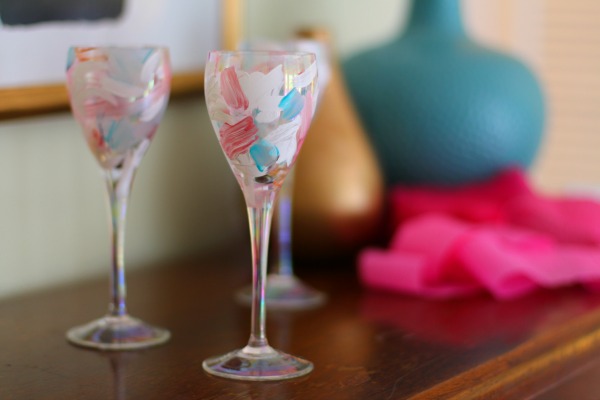 DIY: Painterly Style Glasses
Supplies:
glass paints
a paint brush
some glasses
a small container for the paint
Instructions:
Step 1:
I chose four paint colors for my glasses: pink, orange, turquoise and white. I first distributed a small amount of each color into a shallow container. I started with pink and I dipped my brush into the paint and painted directly on the outside of the glass in random strokes in a "painterly" style.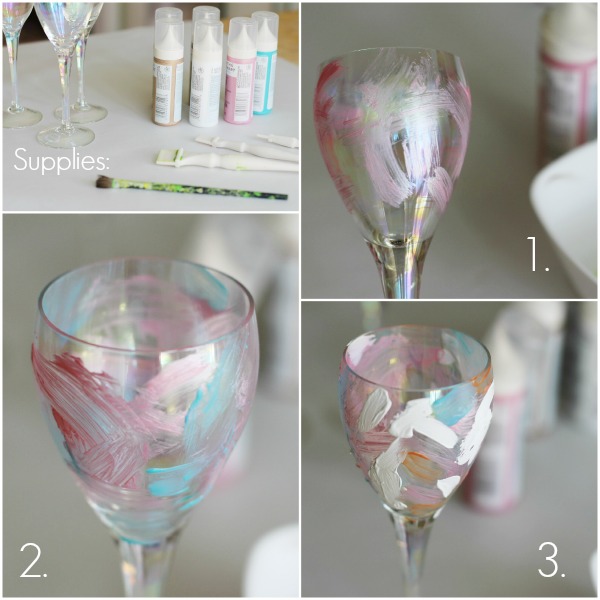 Step 2:
I waited about 10 minutes until the pink paint was dry enough to add another color. I then dipped my brush into the blue paint and repeated the same technique I used with the pink paint.
Step 3:
Finally, I waited about another 10 minutes for the blue paint to dry a little then I added orange paint and then once that dried some, white paint at the end.
Abstract-looking glasses perfect for holding little votive candles? Yes please! Hooray! The best part of this project is that there really aren't any rules except that you should have some fun while painting. And maybe even play some 80's pop music in the background!
Like the results? Give it a try–I think you'll have a blast!