I've been trying really hard over the last little while to bring reusable grocery bags to the store with me, you know, helping do my part. It was hard to start, I was nervous to ask the grocery store clerks to use them. But so many stores, especially here in Seattle, are familiar with them and even encourage you to use them. And I actually love them more than the plastic or paper bags at the store as they fit so much more and hang on my shoulder so easily.
These bags from Chico, the Vita style, are my favorite. I've stocked up on them, if you can't tell.
They are super duper compact, fit in any purse I have, and are a cinch to pull out or put back together. Even my son helps me fold it back into itself.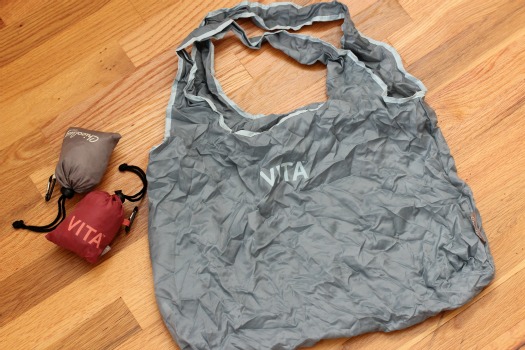 The material is slick and washable, they have a drawstring to keep them together, and I love the carabiner that comes attached so I can hook it to my stroller or myself if I don't have my purse with me.
And the best part, this style of grocery bag can fit so much stuff! I try to tell the grocery clerks to fill it full, as it's not too hard to carry around and the handles are soft and carry really well.
I do have many other styles I use, they each have their purpose. Like I have the cloth rectangle box style bags for the beach and for taking food to the park. But these Chico Vita bags are the best for quick use at the grocery store. And they're not too terribly expensive, they pay for themselves, and I'm helping save our earth :)
Do you use reusable bags? Have you ever tried it before? What style is your favorite?