We're on to the next of the 5 senses in our Exploring Our 5 Senses series. We've posted about sight, taste, hearing, and touch. Now we are exploring our sense of smell – smelling all the smells!
We're using items we have around the house, as well as essential oils we have on hand, to see if we can smell the right item. For the results, we're recording them in our science journal. We love science, and a good scientist always has their journal to record their findings!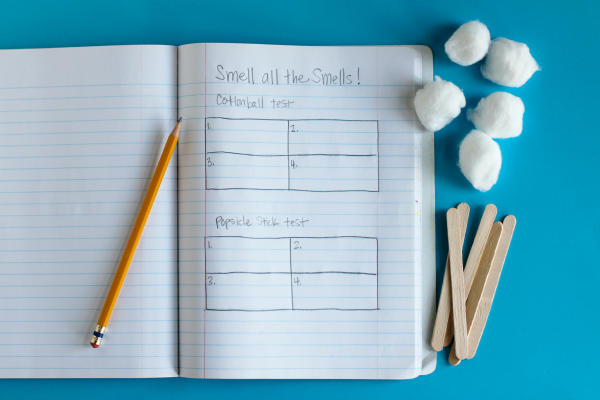 Here's what you'll need for a sense of smell experiment:
cotton balls or craft sticks
smelly things – items around the house or essential oils are great
paper and pencil
optional: washi tape 
For our first experiment, we used 4 items found around our house and cotton balls: vinegar, cinnamon, vanilla, and a lemon. TIP: If there's color on the cotton ball and you don't want the kids to see it, you can blind fold them as they smell.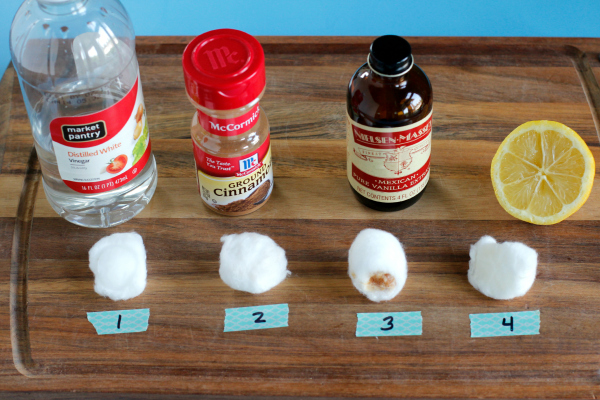 I've numbered each smell with washi tape on the board. And be sure to write it down for yourself if you can't remember which smell is which. Then hide your items and bring in the kids!
One by one, let your kids smell the cotton balls. Let them each take a wiff before they each try to guess. Write down your findings. My girls were pretty good with these smells. They knew the vinegar one right away!
For our second experiment, we used 4 of our essential oils. I have peppermint, lemon, joy (which is very flowery), and lavender.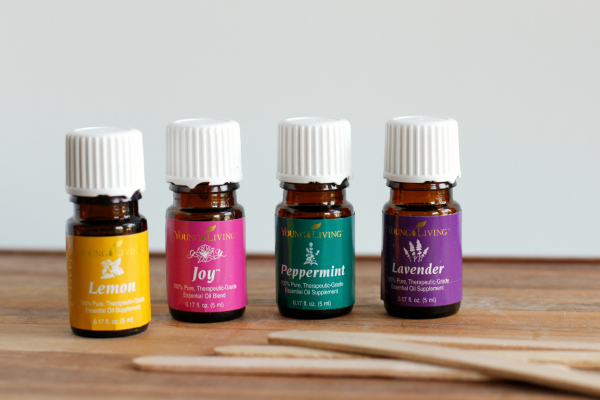 I added one drop to each of the craft sticks. TIP: add a little washi tape to one end of the stick to let the kids know where to hold if you don't want your child to touch the pure essential oil.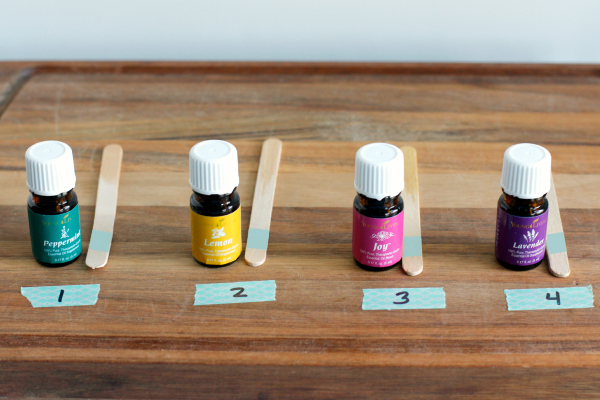 Time to smell!
My girls wrote down their findings, although they couldn't guess the flowery Joy essential oil smell. They kept thinking it was basil or cilantro. But they knew lavender right away, it's one of our favorites we use all the time!
Here are a few more ideas for items to smells to test out with your kids:
fruit
fruit juice
herbs
spices
mustard
peanut butter
leather
wood
soap
coffee beans
stinky socks :)
Have fun exploring your 5 senses with smell!
*This post contains affiliate links. Thanks for clicking and supporting Make and Takes.