We're celebrating our series all about Exploring Our 5 Senses! Popcorn is not only a delicious snack, it is the perfect food for exploring all 5 senses. An air popper adds great fun to this "snacktivity," as you listen to, watch and smell the popcorn popping. We even got a little crazy and popped some popcorn without the lid. My girls have named it the "popcorn volcano!"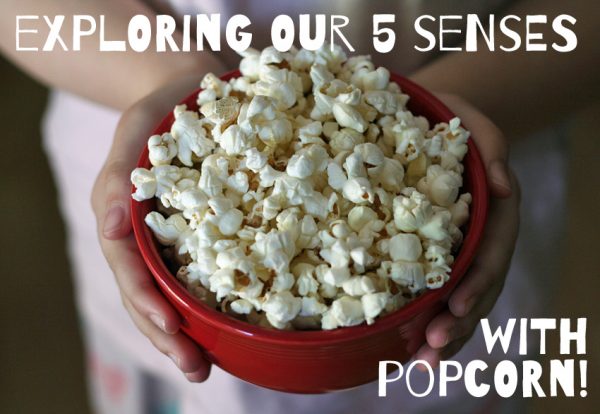 Exploring Our 5 Senses: Popcorn Party!
Before you start popping, investigate the popcorn kernels:
How do they sound when you shake them in the package or jar?
What do they look like? How would you describe the color?
How do they feel when you roll them around in your hand?
Do they have a smell?
Set-up your air popper with the recommended amount of popcorn kernels. You can listen to and watch the popcorn pop through the clear cover. I love the smell of popcorn popping, too!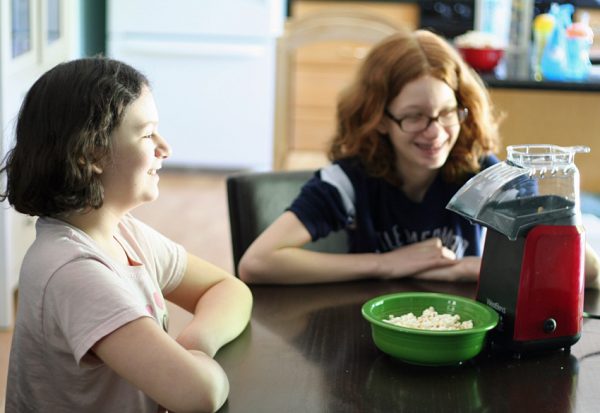 Or, if you are feeling a bit adventurous, you can watch the popcorn pop without the cover. Take your kids ages into account here, and choose a large space with plenty of room to view from afar. Lay out a clean tablecloth or sheet with the air popper in the center. (You will probably need an extension cord.) Your kiddos can sit on the edge of the sheet and watch the popping show! I still remember doing this with my girls at preschool – the kids just love this experience!
Remember that any unpopped kernels that jump out are especially hot!
Talk about what you see, hear, and smell as the kernels pop and pop:
What does this smell remind you of?
What sounds does the popcorn make? What sound do you think it will make when you eat it?
What color is the popcorn now? How else would you describe how it looks?
Touch and taste some of the plain popcorn while it is still warm, but not too hot. Then, add melted butter and salt, or your choice of seasonings, and enjoy a delicious snack with all of your senses. Yum!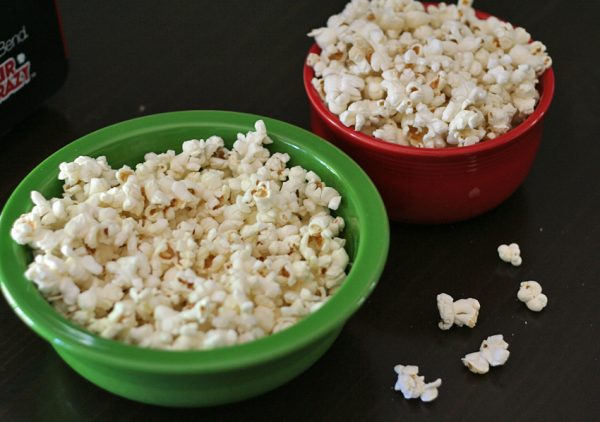 Be sure to visit all our 5 Senses Activities: 
Exploring Our 5 Senses: Smell
Exploring Our 5 Senses: Hearing
Exploring Our 5 Senses: Sight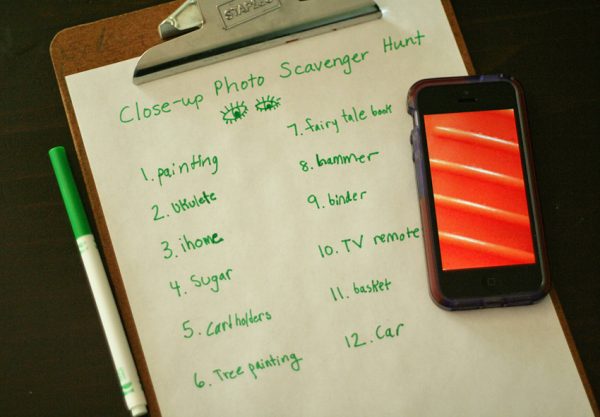 Exploring Our 5 Senses: Taste
Exploring Our 5 Senses: Touch