These dainty little treats are a hit in the kitchen, a play kitchen that is. My kids puts these on a small tray I bought at the dollar store and bring them to us to taste. Follow my how-to for these fun Felt Sugar Cookies.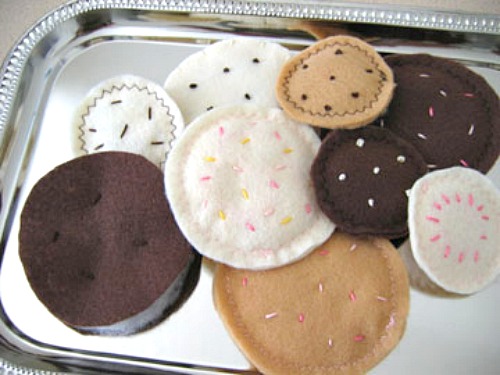 First, you will need felt, embroidery thread, needle, and batting. Using a glass or cup, trace a circle onto your felt. Make it at least 2-3 inches across, you can always trim later. Double up the felt and cut out 2 circles at once.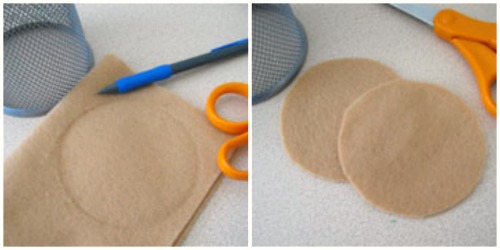 Get out the colors of embroidery thread for the colors of sprinkles you want your cookie to have. Thread your needle and make a knot at one end. Using only the top circle, go up and down throughout the felt to make the look of small little sprinkles. Simply tie a second knot on the back of the felt when you are done.
Cut or pull out some batting to make the middle of your cookie. Not too much. You don't want your cookies to look too puffy. Place the batting between the felt circles. You want at least 2-3 centimeters in from the cookie without batting.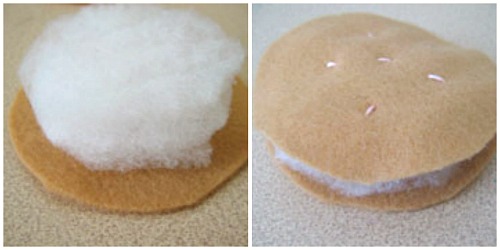 Now you can sew around the cookie. You can use a sewing machine on a zigzag setting as I have done, or you can stitch a blanket stitch around the cookie for an even more homemade cookie look.
Then I did this one as an Oreo cookie and only stitched the two felt pieces together through the batting. I didn't sew the edges.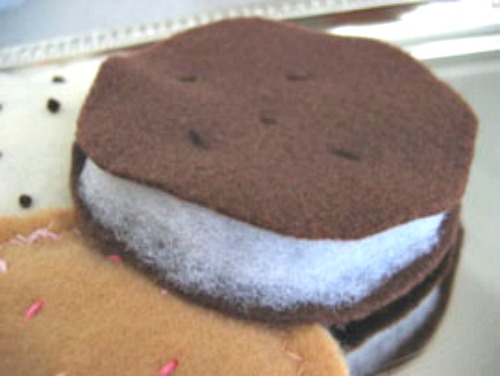 These felt cookies look yummy enough to eat. Here are a few other fun food finds at Etsy that could be in your play kitchen.