If you love the KFC Famous Bowl then you'll love our fried chicken and mashed potatoes bowl. We show you how to make it gluten-free too.
Before my son had to be put on a gluten-free diet, he loved fried chicken. Up until recently though, he's had to go without it. We finally found a gluten-free fried chicken recipe that he loves; which you might remember from our breakfast-for-dinner post where we made fried chicken and waffles.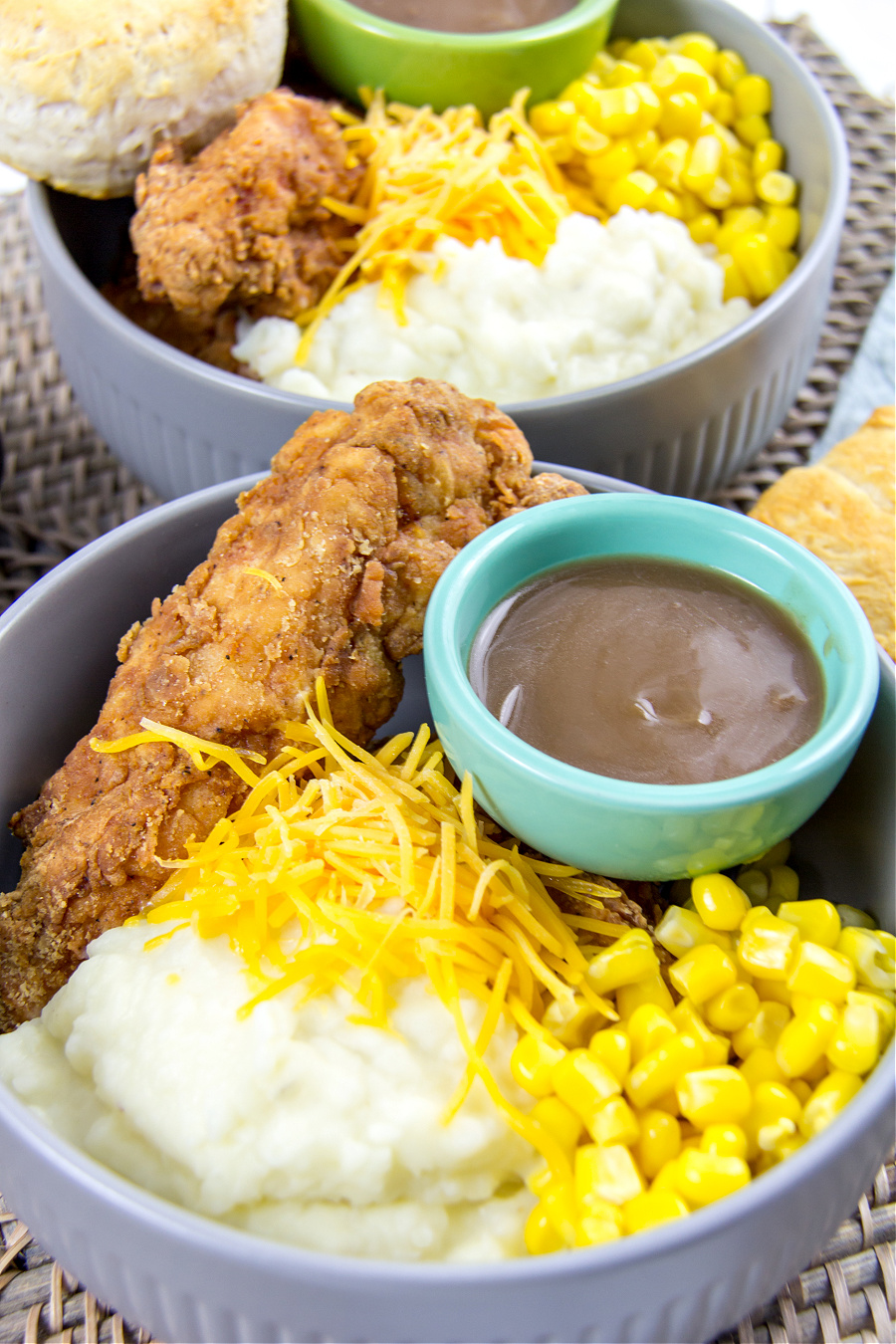 Fried chicken and mashed potatoes bowl
We made this fried chicken and mashed potatoes bowl two ways, non-gluten-free and gluten-free. The only two items you need to switch out are the seasoned flour and the gravy.
Ingredients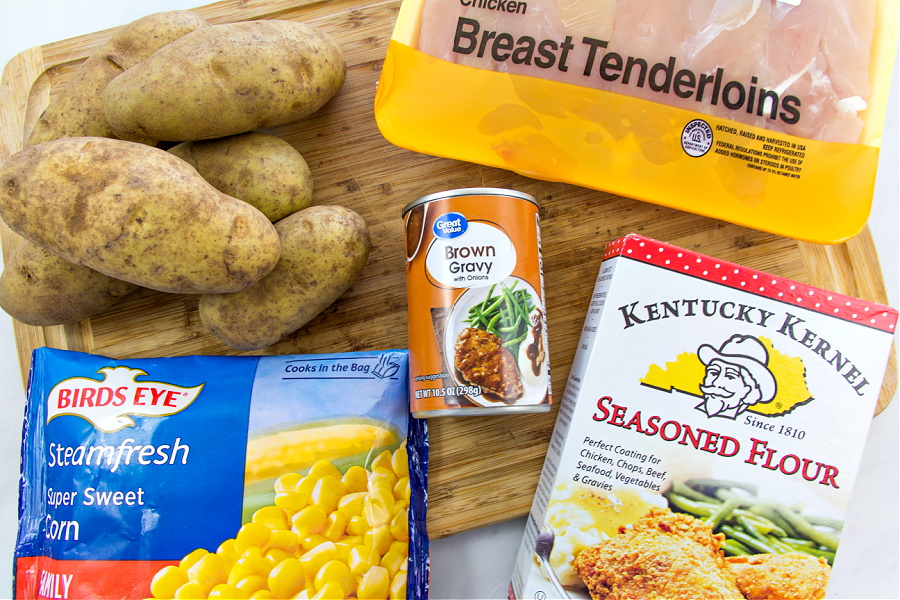 Chicken breast tenderloins
Potatoes
Kentucky Kernel Seasoned Flour – which comes in regular and gluten-free
Gravy
Frozen sweet corn kernels
These are the primary ingredients you will need to make your fried chicken and mashed potatoes bowl, but we'll go into it more in the recipe card below.
Instructions
What is the secret to good fried chicken?
We showed you how we make delicious fried chicken in our fried chicken and waffles recipe.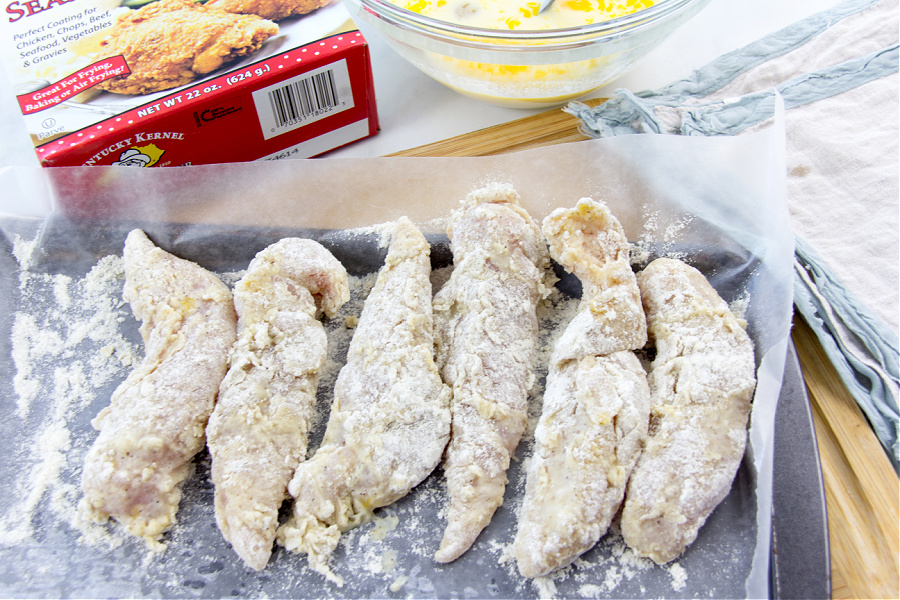 We've since discovered that if you add a little cornstarch to the Kentucky Kernel Seasoned Flour it sticks even better to the chicken when frying it. Doesn't it look delicious?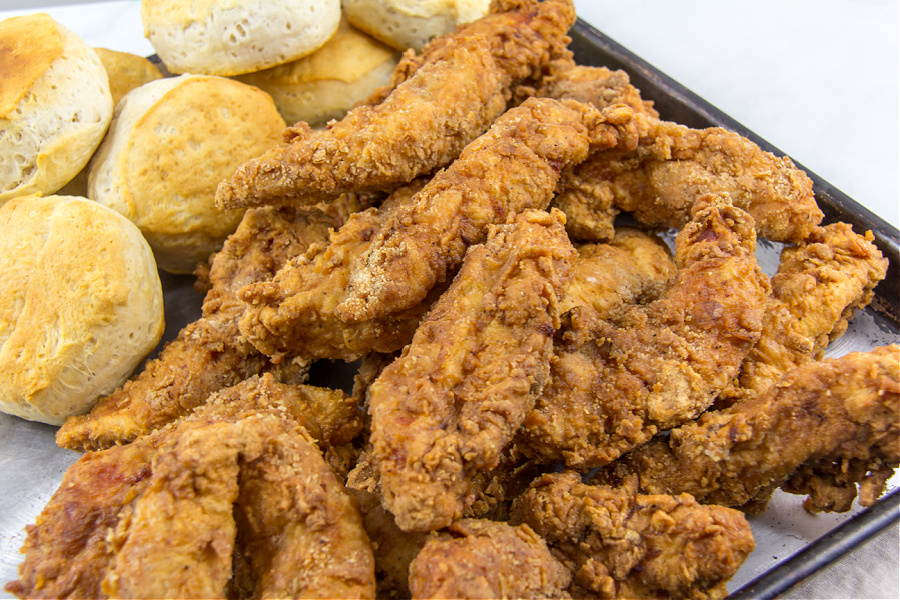 You will only need 2-3 chicken strips per person for the bowl; this meal is very filling.
Creamy mashed potatoes
This wouldn't be a copycat KFC Famous Bowl without creamy mashed potatoes and gravy. We have a delicious creamy mashed potatoes recipe that you just have to make. I prefer to use Half & Half in mine though instead of whole milk.
What to serve with fried chicken and mashed potatoes
Top your meal with:
brown gravy – make sure to use a gluten-free gravy if serving your meal gluten-free
biscuits
sweet corn
shredded mild cheddar cheese
Tip: I've found that Whole Foods have delicious gluten-free biscuits in the freezer section. These are great alternatives if you haven't mastered making your own, like me.
Please pin post for later

Fried Chicken and Mashed Potatoes
Make our copycat KFC Famous Bowl.
Keyword:
bowl food, fried chicken
Ingredients
mashed potatoes

see our creamy mashed potatoes recipe

fried chicken

see our fried chicken recipe

frozen sweet corn kernels

brown gravy

mild cheddar cheese
Instructions
Get your fryer heating up.

Prepare the mashed potatoes and fried chicken ingredients.

During the last 15-minutes of your mashed potatoes and fried chicken cooking, heat the gravy and sweet corn.

Put the fried chicken, mashed potatoes, and corn into a bowl. Top with cheddar cheese and serve gravy on the side. You can also serve biscuits on the side too.