I am bringing a classic Christmas decoration back, Fruit Loop Christmas Garland. The kids love to make these and surprisingly, their attention stayed until the end.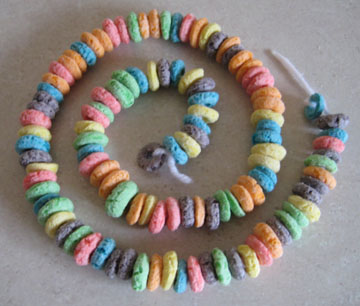 You need a box of Fruit Loop Cereal, yarn – any color, tape, scissors, and a tree to drape it on. I found this little tree for $1 at Walmart, can't beat it.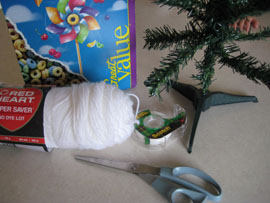 A great tip for stringing things: tape one end of the yarn. It helps the yarn not fray and the kids will have an easier time threading the cereal.
Another great tip for stringing things: tie a knot at the end of the yarn. I like to use one of the fruit loops as the anchor in the knot. Otherwise, you will be picking up cereal off the floor as the kids loop them on and they slide right off.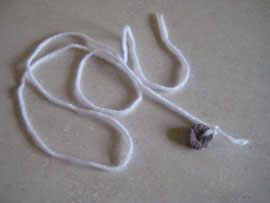 I gave a bowl of cereal to each child and I let them eat one or two before we start, get that out of the way. You will have to explain to the children that these loops are for the tree, but there are plenty more for cereal the next morning.
Then they began to loop them on their piece of yarn. You can make them as long or short as you like. Think of your tree. You can have the children measure around it and then measure their yarn, great math time learning. For more math time, have your child make a pattern with their cereal.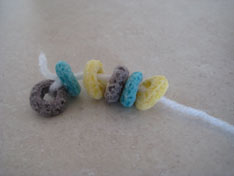 When you have the length you want, simply tie another knot at this end too, preferably with another cereal to anchor it again.
Now you are ready to loop the fruity garland around your tree. We will be making some ornaments to go with it as well, soon to see on the blog. Happy Stringing!