This is a fun classic craft, perfect for Thanksgiving Day. These Turkey Apples can be "gobbled" up as a snack while they wait for the turkey to be done or saved as part of Thanksgiving dinner.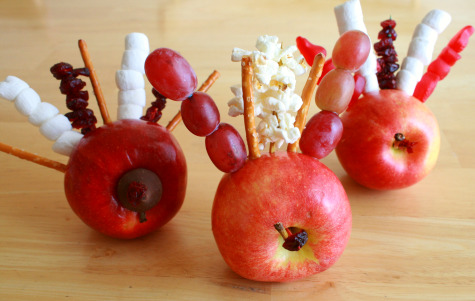 Supplies for Turkey Apples:
whole apples, any color, washed and dried
toothpicks
stick pretzels
marshmallows
raisins, craisins
popcorn
Set out your supplies. Use your toothpicks to attach some of them together in a line. Then press them into the back part of the apple. We also tried to make some turkey faces. I used chocolate kisses for one and a craisin on a toothpick for another, making the waddle. You could use a grape or olive too.
Now these turkeys are ready for Gobbling!! Have fun with Turkey Dinner!