Halloween is getting closer and we're prepping the house for some spooky scares! These green blobs in a bottle will fit right in, as we craft up some scary Halloween decorations this year.
I found this creepy craft in the Halloween craft book called, Make Yourself a Monster by Kathy Ross. There's tons of fun monsterish ideas, perfect for Halloween.
Supplies for Green Blobs:
corn syrup
empty clear bottle/jar – with or without a lid
green food coloring
crafting googly eyes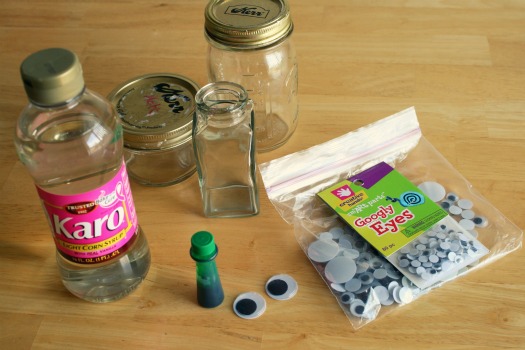 1. Pour corn syrup into your jar and add 2-3 drops of food coloring. Stir.
2. Add your googley eyes. These will float, unless you glue on a weight to the back of the eyes, or something heavy.
Now your Blob is ready for display. Keep these ghoulish eyes on hand, you may have a monster visit with only one eye that might need a spare!