When I grew my own wheatgrass, I chose a few festive containers. I wanted to test them out to see which would work the best. Here's the results for how each container turned out.
My favorite wheatgrass container: Terra Cotta Pots. These worked out fabulously. I love how the orange from the pot contrasts so well with the green from the grass. I think I'll be making more of these and giving them to family and friends.
Runner-up: Silver Tray. I also love this silver tray with the grass as a beautiful display. It's perfect for decorating a living room side table or a kitchen table centerpiece.
Fun container to watch it grow: Glass Floral Vase. With a glass container, you can really see what's happening as the wheatgrass grows.We used this Etched Glass Vase to grow wheatgrass. It was fun to watch as the wheatgrass made roots and grew grass.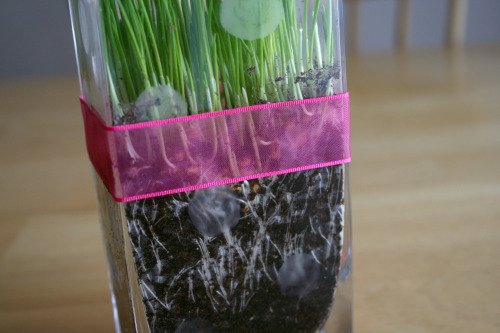 Festive for Easter: Easter Bowls and Easter Bunny. For the Easter bowls, I bought these ceramic bowls from Target a few years back and have previously filled it with candy. I thought it might be fun to try grass. It looks really fun and festive. But as these containers are not very deep, they are losing soil. The roots are taking over and floating the grass right out of the bowls!
I also used this Easter Bunny Bucket for a container. This is a fun one for my kids, as they're hoping the real Easter Bunny might hide some eggs inside!
What didn't work at all: The Egg Carton. It was a fun idea to start with, but every time I watered it, the carton would soak up all the water, leaving the soil with none. I was having to pour more and more water, making a big wet mess on my counter with lots of towels. Sorry no photo, it got tossed back into recycling after 3 days.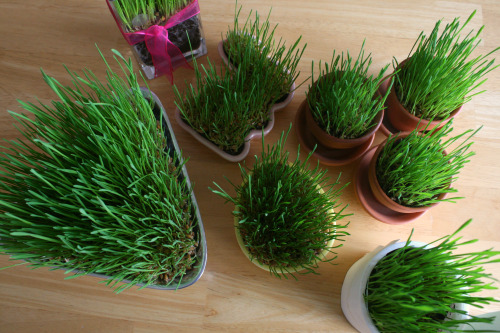 What containers have you had success with growing grass or wheatgrass indoors?