We're now on to the letter B for our Holiday ABC series, B is for Bells. Be sure to check out our A for Advent. There are so many fun things you can do with bells. We've made bell ornaments, bell shakers, and bell ribbon rings. This time I decided to make a fun framed decoration for our bookshelf with some pretty paper and bells lined up in the shape of a tree.
Supplies for Framed Silver Bell Tree Decor:
frame – any size
colorful paper – size it to your frame
scissors
bells – up to 22 for a 4×6 frame, various sizes
glue
1. Cut your colorful paper to fit the size of your frame. If you have a matte piece as part of your frame, take that into account with your paper. I found this fun glitter-looking paper in green and I love it.
2. Get our your bells and play around with them a little. I didn't know what style, color, shape I wanted at first. It could have been a blue and gold wreath or a red and silver candy cane. The sky is the limit.
I started with a tree shape in all colors with larger bells and it turned out pretty fun. I placed my matte frame over my paper to make sure I had enough room to add bells.
But in the end, I used 21 small silver bells and one larger silver bell for my final creation.
3. Once you have your formation of bells, use a fairly sturdy glue to glue them into place. The bells are heavy and if you use a school glue or glue dots, they won't stick. Go for something like tacky glue or E-6000 to help them stay on for good and let the glue dry completely before displaying.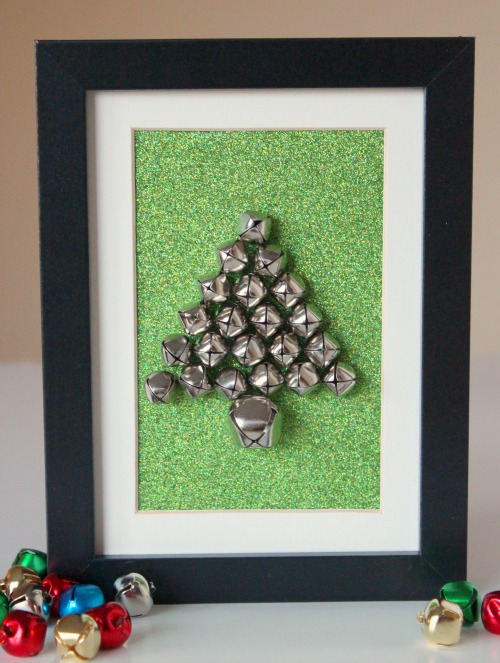 Now it's ready for your mantel or shelf for some festive holiday decor!