Kwanzaa is a holiday celebrated by African Americans and begins the day after Christmas. There are 7 nights and 7 candles in a kinara lit each night, representing 7 principles of family, community, and culture. So for our Holiday ABC series, we've created a fun kids craft for making a placemat kinara for letter K. This is something the kids can put together themselves by adding a candle to the placemat each day of Kwanzaa. It ends with a celebration feast where kids can use their kinara placemat as a table decoration.
Supplies for Kinara Placemat:
5 sheets of heavy cardstock paper – black, yellow, red, green and one more main paper for weaving – we chose brown
scissors and/or paper cutter
glue stick
1. Take your main paper that you'll be weaving the other strips through and fold it in half. Take your scissors and cut 6-8 slices through the paper at the fold mark, not cutting all the way through. Unfold the paper.
2. Cut 7 strips of paper 8 inches long and 1 inch wide – 3 strips of red, 3 strips of green, and 1 strip of black.
3. Cut out 7 small squares of yellow paper and glue them onto the tops of each of the 7 strips of paper. They will represent the candles.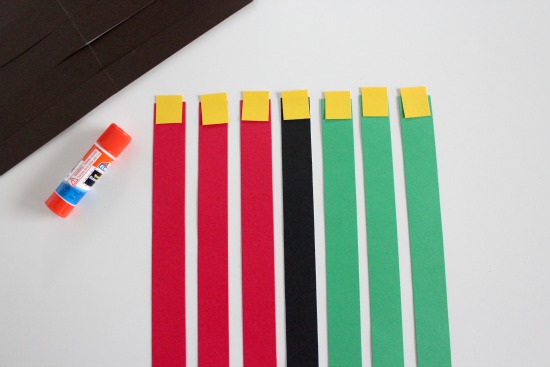 4. On each of the 7 days of Kwanzaa, thread your strip of paper through the brown sliced paper, alternating each strip to weave it through.
Once you're done threading each of your 7 strips, it's ready to use as your placemat for a dinner celebration. You could also have it laminated to help it last longer. Or keep it as is and use it year after year.
Do you celebrate Kwanzaa? What traditions do you celebrate as a family to celebrate Kwanzaa?