These mini yarn pom poms for our letter Y in our Holiday ABC series are so much fun to make. Your kids can help by doing the wrapping. It's the perfect craft to make for fun holiday decor.
Supplies for Mini Yarn Pom Poms:
colorful yarn – 3-4 feet per pom
scissors
1. Wrap your choice of yarn around 2 fingers about 25-30 times around.
2. Carefully remove the wrapped yarn off of your fingers and tie a separate piece of 4-5 inch yarn around the whole wrapped piece. Tie it as tight as you can into a knot, tight!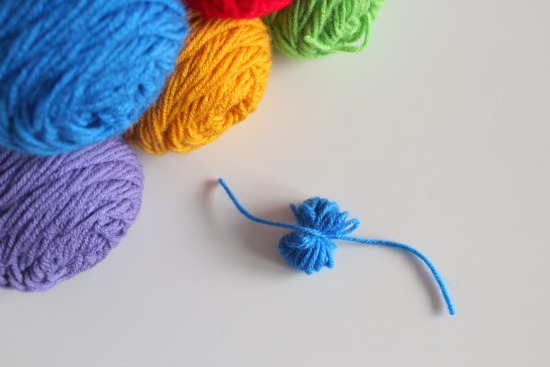 3. Take your scissors and cut all the "loops" off of the yarn. With your fingers spread out the yarn and make sure you cut all the loops.
4. Trim up your pom to make it an even size all around.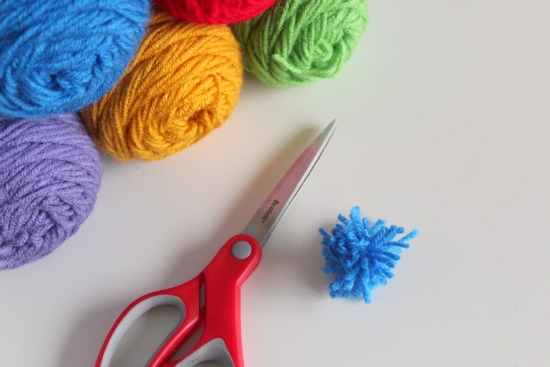 Now they are ready for crafting!
Here's a few ideas for using your Mini Yarn Pom-Poms:
take some thread and a needle and string them together in a line to make a garland. You could put 30-40 of these together and string up enough to go around your tree.
leave one of your yarn strings a little longer to loop to make it into an ornament.
glue on some googly eyes and a paper beak to make a few Angry Birds to add to the tree or get out some holiday aggression :)
make some pom pom jewelry by gluing these mini's onto a blank ring or earring posts to give as gifts