Anyone else have a TON of leftover candy from Halloween? Either from your own trick-or-treaters or from supermarket after holiday sales!! I can't wait to try one of these 20 awesome ideas with my leftover Halloween candy!
Mine is sitting in a bowl on my counter and it's so hard not to snack out of it all day long. So I need to get rid of it…fast! Read on for fun and easy ways to use up that leftover Halloween candy stash.
20 Ideas for Leftover Halloween Candy
1. Kit Kat Cheesecake Bars: Sneak those leftover Kit Kats into deeeelicious cheesecake bars! Love this dessert idea from Hersheys.com.
2. Family Games to Play with Candy: Stack packs of gum to make a Jenga tower! Your kids will love this game.
3. Cute Candy Houses: Use your favorite pieces of candy to decorate cute candy houses. This is a fun holiday activity for the whole family.
4. Crushed Up Candy: Crush up different kinds of candy to make yummy toppings for ice cream and other desserts.
5. Graphing Halloween Candy: This activity will help your kids practice their math skills. Yummy, fun, and educational!
6. Glossy Skittles Paint: Create a thick, sticky paint from leftover Skittles candy. Let your kids create pretty art pictures with this tutorial from Mama.Papa.Bubba.
7. Candy Blondies Recipe: Dump all of that leftover candy into the batter for these tasty blondie bars. Get the recipe from Just a Taste.
8. Sink or Float Candy Science: Create a science experiment with your Halloween candy. See which candies sink and which candies float. Instructions from Reading Confetti.
9. Candy Christmas Countdown: Start celebrating the holidays with this candy countdown to Christmas. I love this idea from Landeelu.
10. Chore Charts: Get your kids to start and finish their chores with this candy chore chart from HubPages.
More Ideas for Leftover Halloween Candy:
11. Starburst Candy Mosaic: Unwrap your Starburst candies and create this pretty mosaic. Find the tutorial from Mama Miss.
12. M&M Pretzel Peanut Butter Bananas: Dip peanut butter covered bananas in your leftover M&Ms. A great after-school snack from The Sweet Spot.
13. Halloween Candy Cookie Cake: Pour all of your leftover candy into this scrumptious cookie cake. Get the recipe from Baker by Nature.
14. Halloween Candy Bites: These candy energy bites from Blissfully Domestic make eating that leftover candy a little bit healthier. These will give you that energy to finish your day strong.
15. Scarecrow Treat Jars: Make these adorable scarecrow jars to hand out to guests at Thanksgiving dinner. Use leftover Whoppers to fill them up. Find the tutorial from The Centsible Life.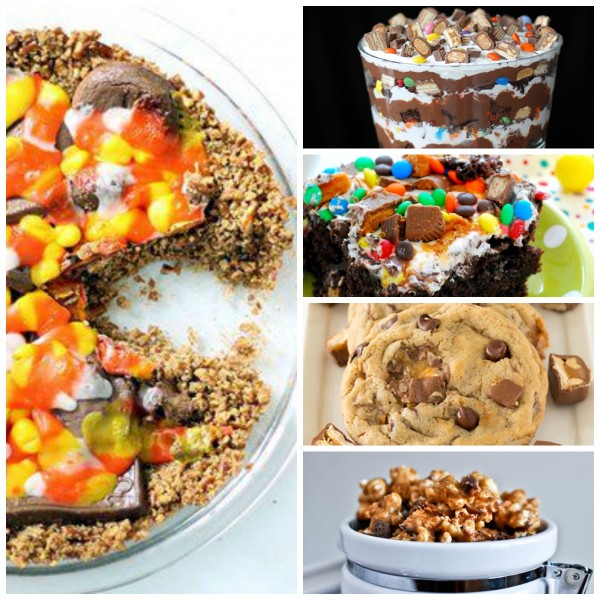 16. Candy Bar Caramel Corn: Melt leftover chocolate candy and pour it over popcorn to make the most decadent caramel corn ever! Recipe from How Sweet It Is.
17. Candy Bar Poke Cake: Calories don't count when it comes to this chocolately delicious candy poke cake from The Domestic Rebel.
18. Snickers Chocolate Chip Cookies: If you haven't already eaten all of the Snickers, use them in this simple chocolate chip cookie recipe from Cooking Classy.
19. Halloween Candy Brownie Trifle: Layer Halloween candy in between brownies, pudding, and whipped cream to make a gorgeous trifle dessert. You can find the recipe over on The Kitchen Magpie.
20. Candy Pie with Preztel Crust: This candy pie from Tablespoon looks absolutely divine!
*Originally posted 11/4/15