With our laundry there is a routine, as with most households. There's usually a constant flow of clothing to wash, dry, and fold. Most weeks, laundry is done out of necessity, empty drawers and no clothes to wear. But I try to catch it before it gets to full. To help with that, I try to encourage my kids to be part of the process, helping make it fun instead of a chore.
At our house, with the young age of my children, laundry is something they love to be involved with. Well, at least my girls are, ages 4 and 7. They want to help with every step. I'm trying hard to keep them involved so they will continue to help me as they grow older. My 10 year old son is not as excited as they are, but participates without too much grumbling, doing his part to get the job done.
Here are the steps we go through for our laundry routine:
1. Collecting – If I can get my kids to place their dirty clothes into their laundry basket, instead of the floor, that's a start! They are on laundry basket duty and are in charge of letting me know when the clothes are at the top. When they see that it's ready, they are in charge of dragging the basket over to the stairs, ready for me to carry down to the laundry room.
2. Washing – My girls love to put the clothes in the washer. We have a front loading washer and it makes it easier for them to help, reaching the opening and stuffing in the clothes. Once the clothes are in, one of them closes the door and we add the soap. They take turns for each step, the soap being one they tend to fight over doing! One of them twists the knob and pulls it to start. Now comes the fun part. My girls will sit in front of the washer and "watch TV", is what they call it. They pretend they are watching a new show, talking all about what they see. I love it!
3. Folding – Putting away our clothes is another routine we've got down to a science. As you probably know, if we don't get it done right away, we go for days wearing clothes right out of the hamper (this happens with our dishwasher too!) We place the clean laundry in the middle of their room and my kids make piles of their clothes. Their PJ's in a pile, all their shirts, socks, pants, etc. into piles on the floor. They can easily grab the pile once it's done and place it into the specific drawer. I've chosen to have all my kid's clothes placed into drawers, to make it easier for them to manage independently. We tried hangers in the closet for a while, but it just doesn't work for us. Drawers are the way to go, at least until they're older.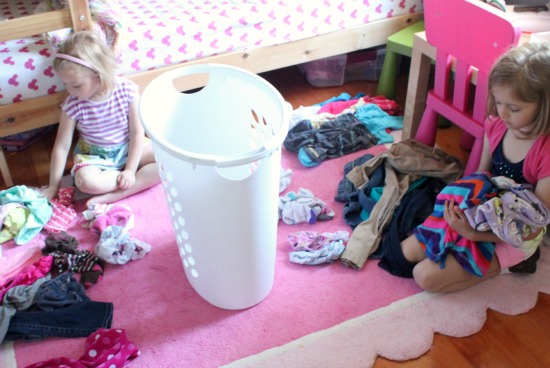 With the above steps complete, we wait a few days and start the process again. Yes, laundry is a necessity, so we try to make it a family affair. If I can help make it manageable for my kids, age appropriate steps, we can all be a part of the process and work together!
How does it work at your home? Do your kids find it as fun as mine do? Or are they like my 10 year old, just getting the job done?
You can also make your own detergent. Here's a great DIY Homemade Laundry Detergent recipe.
Brought to you by Tide HE & Maytag Powerwash, the intelligent laundry choice. Designed to work together for optimum stain removal, Tide HE and Maytag Powerwash offer a powerful clean with less detergent in only one wash. Learn how to get more out of your home's laundry system at HGTV.com