We've been road trippin'! I mentioned back a bit ago that we were headed on a road trip to see our cousins who live 12 hours away. It can be hard keeping kids engaged during the long travel time. Well, we made it to our destination and our Road Trip Grab Bags were a hit.
Keeping Kids Engaged
When my kids saw the bags all ready to go, numbers on and stapled closed, they couldn't wait to open each one up! Once we packed up the car and headed out on the freeway, it was time to open the first one.
How we played the Grab Bag Game:
I made 12 bags with activities inside, one for every hour on the road. Before the kids could open up a bag, they had to answer a question I wrote down on our Post-it Notes. I tried to ask questions about the scenery around them, helping my kids keep their eyes on the road and stay active by searching for clues to my next question.
With the Post-it Mobile Attach and Go Car Visor Pop-Up Note Dispenser, it made it super handy to have paper at the ready as we played our Grab Bag Game. As I used these to think up fun questions to ask the kids as we drove along, the trivia questions ended up being just as much fun as the bags. My husband and I would try really hard to emphasize all kinds of scenery locations and landmarks to ask for each hour and each grab bag.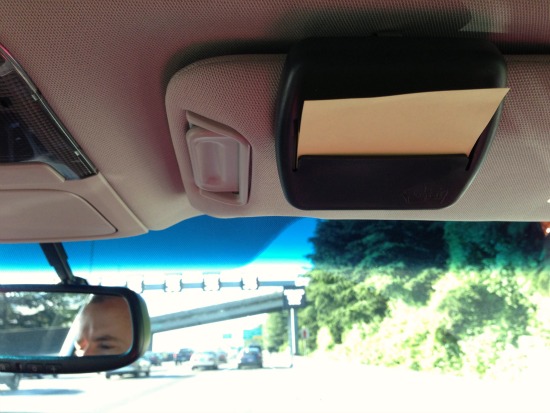 Questions we asked:
What major lake did we pass over?

What is the big mountain called we drove past?
Look for a green car before you can open the next bag.
Name one of three cities we have passed through.
Look for a specific state's license plate.
Look for the alphabet letters on road signs.
Checking out the scenery and asking all these questions ended up being a big part of the road trip and helped keep us all actively engaged while driving.
Each of the grab bags were so much fun, my kids dying to open the next one to see what activity or game was inside. There was coloring, crafting, paper clipping, and story telling. There are so many fun things to place inside each bag. Here's my daughter hanging her monkey off a vine of paperclips!
Have fun keeping kids engaged on your longer road trip – make it a fun game for all!
Disclosure: This post is sponsored by the Post-it Brand, but these fun road trip ideas are all mine!