When my son turned 3 years old, I couldn't wait to throw him a party. We invited 5 friends, scheduled 2 hours of time, and had a cake baked and ready to go. Well, I learned 5 minutes into the party that I had planned way too much for a group of 3 year olds! What was I thinking? I think I was a bit too excited, suffering from First-Time Mommy Syndrome. We still had a great time, but I've learned a few tricks since then helping me stay sane.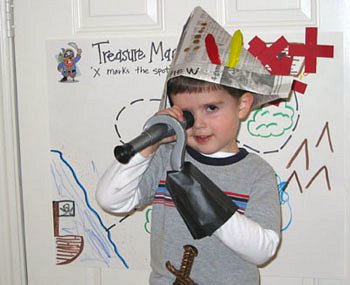 My Top Kid's Party Tips:

1. How many is too many?
Only have as many children at the party as years the child is turning. So if your child is turning 3 then only invite 2 friends, turning 5 then invite 4 friends. We now have siblings that want to join in the party fun, so take them into account as well. It's takes a lot of energy to entertain kids, at any age. So limiting the number can help you give them the attention they need.
2. How long should the party last?
If your child is under the age of 6, I suggest no longer than one hour. I had five 3 year olds for 2 hours and we whizzed through all the games I had planned in 20 minutes. Once your child is older, the kids are better at taking their time with the games and opening presents.
3. What should we do?
Decide if you want to have the party at your home or at a Party Place. I've been to some great parties held at Backyard Adventures and Kangaroo Zoo. Those will cost more money, but everything is taken care of.
If you have the party at home, you want to divide your time into sections. I like to have the kids color or play with balloons until everyone arrives. Then gather and play between 2-4 games. I like to coordinate our games with the theme we picked. Also, remember that the games always go faster than you think they will. What I thought would take 20 minutes finished in about 5. Then we sing and eat cake. After cleaning up the, we open presents. I like to do this last so the kids can play with the new toys until their parents come back.
4. What theme should we pick?
I say "we" as my son has tried to pick some pretty crazy birthday themes. We've had pirates, cowboys, dinosaurs, and Care Bears. Check out Problem Solvin' Mom's post on picking a birthday theme. Tip Junkie also has some great ideas for party themes.
5. How much money should I spend?
You could spend your life savings on a party or even a few dollars can make it great. This Birthday Party Budget post by Cathe Holden as a guest mom on Design Mom has great ideas on how to have fun while saving money. For my parties, I try to make most of the items needed. We make our invitations from art paper, bake the cake ourselves, and games are put together from supplies around the house. Part of the fun is crafting and getting ready for the big day.
6. Should I serve cupcakes?
I don't know why, but small children don't know how to eat cupcakes. They dive in right at the top, not bothering to take off the liner, crumbs go flinging everywhere, and they only end up eating the frosting anyway. And for some reason, I keep making them for every birthday. But I'm wising up for this next year of birthdays, trying a few alternatives that will still keep the kiddies happy.
Mini Cupcakes – I found this mini cupcake pan that's perfect for small mouths.
Here's a few more cupcake alternatives:
Okay, now we need to hear from you. What tips and tricks have you been using to make your birthday parties a success?