My girls love make-your-own-meals, like taco night, oatmeal and toppings breakfast, or salad bar. Do your kids enjoy making personalized meals, too? Here's a fun twist on pizza night that we have been enjoying at our house – made-to-order pizza pasta bowls. These are fun and easy to put together, perfect for a busy weekday night.
Whatever toppings your family likes on pizza will work for these pizza pasta bowls. My girls tend to eat more veggies when they are diced up and served in pretty bowls, so that's what I do! Being able to cover their meal in shredded cheese is always a plus, too.
Ingredient ideas for Pizza Pasta Bowls:
pasta of your choice
pizza sauce or marinara
shredded mozzarella cheese
parmesan cheese
pepperoni
sausage
sliced & sautéed mushrooms
baby spinach
sliced olives
diced tomatoes
diced bell pepper
marinated artichoke hearts
anything else you like on pizza!
While your water is boiling and pasta is cooking, assemble all the topping ingredients for your pizza bowls. Get your kids involved filling bowls, while you quickly sauté any ingredients and warm up the sauce. My girls especially enjoy the flavor of pizza sauce, instead of marinara, for this meal.
Drain the pasta and toss it with a little olive oil to keep it from sticking. Then, it's time for everyone to create their own delicious pizza pasta bowl!
Give everyone a bowl of noodles and pass around the toppings. My girls love loading on extra cheese, but they also tend to include more veggies than they normally eat on pizza. I don't even bother sautéing the spinach – the warm noodles will wilt it just enough.
If we're feeling really silly, we have the girls take our orders on a notepad and prepare mom and dad's bowls, too.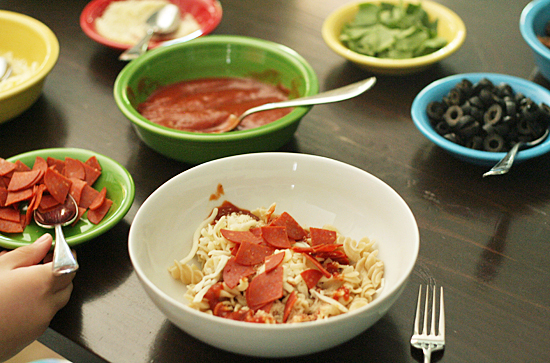 If anyone in your family wants to skip the pasta, this is really tasty on a bed of lettuce as well. Wouldn't pizza pasta bowls would be a fun party food, too?
Happy cooking with your kids!