The holidays are over, but if you still love to decorate for seasons, then winter crafts are for you. We are going to show you how to make winter floral arrangements including hand-knit winter cozies that make beautiful winter decor for your home.
Knit winter vase cozies
Warm and cozy hand-knit cozies (or sweaters) are the perfect addition to your vases and winter floral arrangements this season.
Supplies:
Vase
Yarn – we used Bernat Blanket Twist in cream
Knitting needles – we used size 8
Yarn sewing needle
Scissors
Tape measure
Hemp cord (optional)
Instructions:
The first thing you need to do is work out the measurements for your knitting.
How to calculate stitches needed
Measure how many inches are around your vase.
Using the needles and yarn you plan on using, cast on 5 stitches. Knit a few rows. Measure the width of your knitting using the tape measure.
Let's take the bottle cover that I made as an example for the purpose of working out how many stitches I needed to cast on.
The bottle measured 8.5 inches around. My knit sample of 5 stitches measured 1.6 inches. So, 8.5 (vase measurement) divided by 1.6 (knitting sample) multiplied by 5 (number of stitches I cast on) equals 26.56. I tend to knit on the looser side, so reduced my number of total stitches to 24.
Knitting is generally a little stretchy, and unless you knit very tightly I recommend reducing the number of cast-on stitches by a couple so your cozy isn't too loose.
Now that you have calculated how many stitches to cast-on, go ahead and do that.
What knitting stitches work best for making vase cozies?
All of them! Experiment with a variety of stitches as I did. I used a seed stitch on one, stockinette (with a garter stitch) on a second, and then a checkerboard stitch on a third. Really play around though and find what works best for the yarn you are using. I love the checkerboard stitch but found it's almost impossible to see with the yarn/needle combination I chose and looks more like a seed stitch.
Tip: If using stockinette stitch, knit a couple of garter stitch rows at the beginning and end. This will stop your knitting from rolling.
What needles you should use to make a vase cozy
I used regular straight needles, but you can also use double-pointed or circular needles to make your vase cozies. Just remember that if you have a narrow vase or bottle this may not work.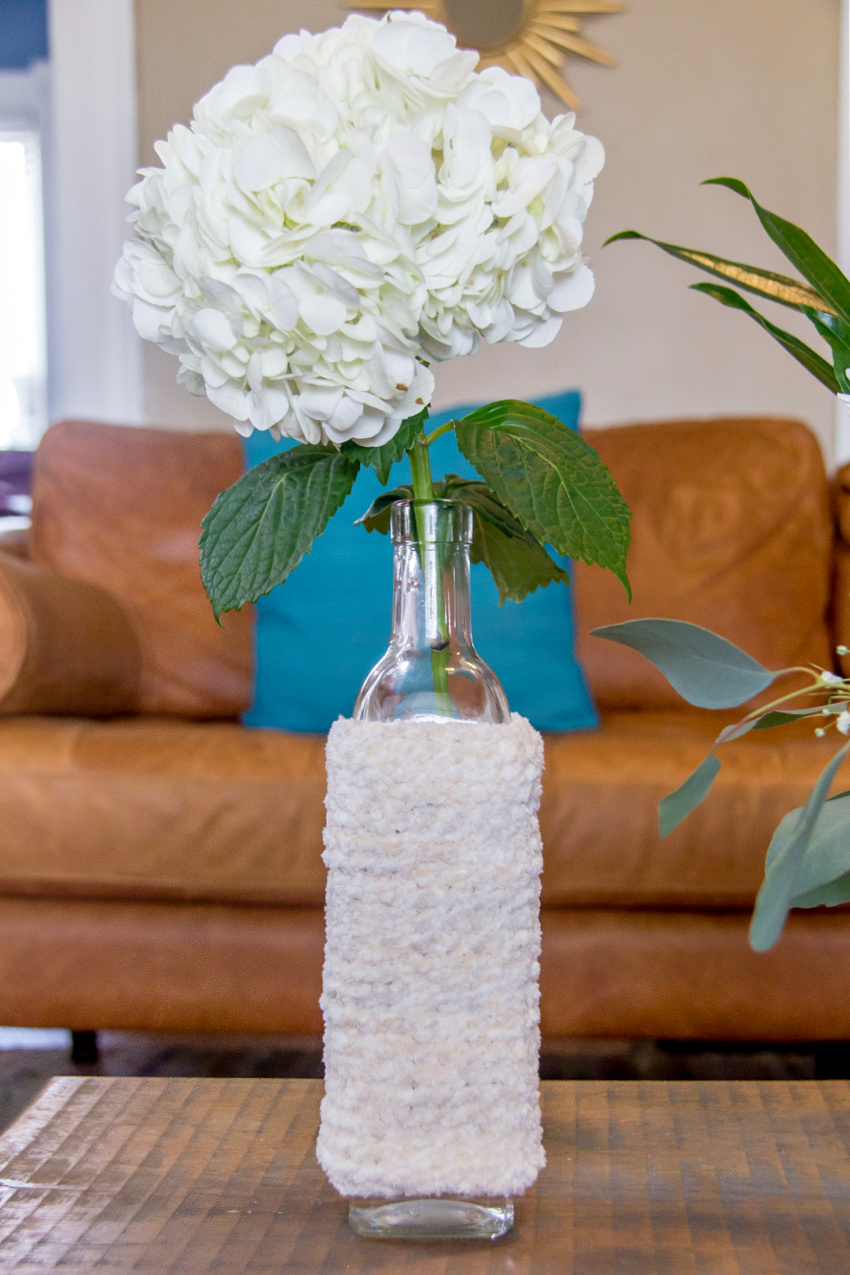 I found it just as easy to use straight needles, and then hand-stitch a seam in the back.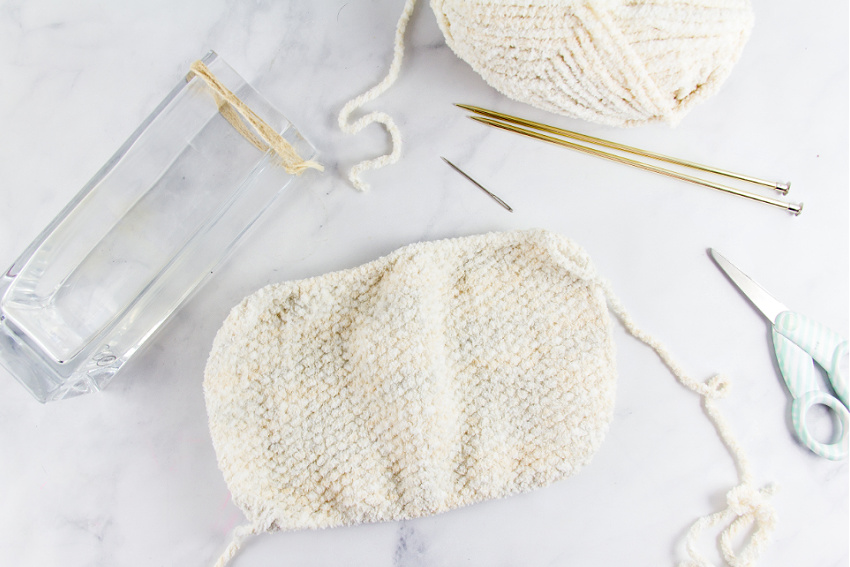 How to make a winter flower arrangement
For your winter floral arrangement, you will want to mix and match white flowers with a lot of greenery. The green and white pairs beautifully with the white knit cozy, and I like to add a little hemp cord around the vase as well. You can also add other items such as pinecones, branches, and branch ball stems.
Please Pin Post For Later: