Charli, from Texas Mama is our guest make and taker today, sharing how she organizes her daughters accessories. Every girl knows you can't have just one purse, am I right ladies? So Charli is showing us her way to keep them all in place, ready for playtime.
My daughter, Hali has more purses than I do. Previously, we'd been keeping them in the bottom drawer of her dresser, along with her dress up stuff. The drawer was just getting too full. That and actually being able to put clothes in it would be useful.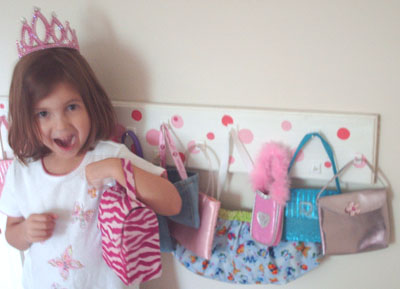 So I made her a purse rack. I painted a piece of routered wood white, drew polka dots with a paintbrush all over with some acrylic paints I had, and then attached small tea cup hooks. There are a variety of of ways to hang your rack, any sturdy hardware made for hanging frames would do.
With the wood being free (my father-in-law is a carpenter), already having the paints, and the hooks costing maybe $2.50, it came out not too shabby! I wanted something simple, not too fussy, but cheerful and cute.
Thanks, Charli, for sharing a great way to keep the playroom organized. I think my daughter would love to see all her purses displayed on a cute rack. I just may have all those supplies as well. Most local craft stores have shelving with hooks that would work great too.
If any of you would like to be a guest make and taker, leave a comment or email me at marieATmakeandtakesDOTcom.