My desk needs a bit of sprucing up. My big plan is to sand it completely to remove the stain, and then paint it white, or maybe yellow. In the mean time I decided to work on a smaller project to make my work area a bit more cheerful. I spend a lot of time sitting at my desk, so I wanted to have a cheery pop of colour there. I decided that a new pen pot would be just the thing! And while I was at it I made a vase too.
Supplies for a Textured Ombre Pen Pot:
Empty jam or mason jars. ( I always have a ton of these I keep, you?)
White gesso
Spray ink
A sponge dabber
Non-stick craft mat.
1. Measure out some white gesso onto your non-stick mat, and using the sponge dabber apply it all over the glass jars in a, well a dabbing motion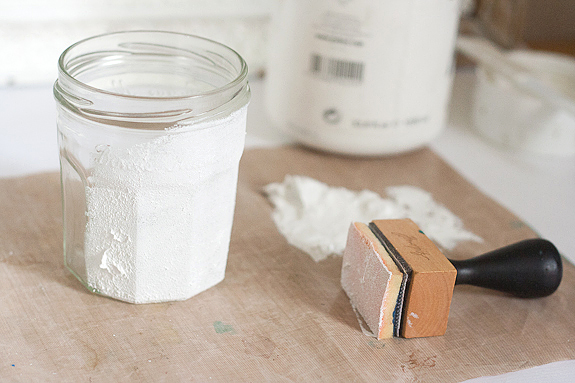 We're going for texture here, so don't worry too much about it going on evenly. Once the jars are completely covered, turn upside down to dry.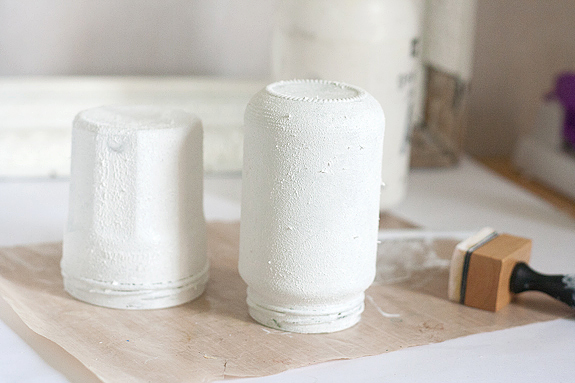 Luckily gesso dries pretty quickly, so it's not a long wait!
2. Holding the jar by the rim, spray the ink on the lower part of the jar while turning it at the same time
This part is very unpredictable, so you have to be up for surprises! If you'd like a more even  edge, you can put some painter's tape around the top part of the jar. To get deeper colours, you can apply several coats of the ink.
Now wait to dry, and that's it! Time to add pens and flowers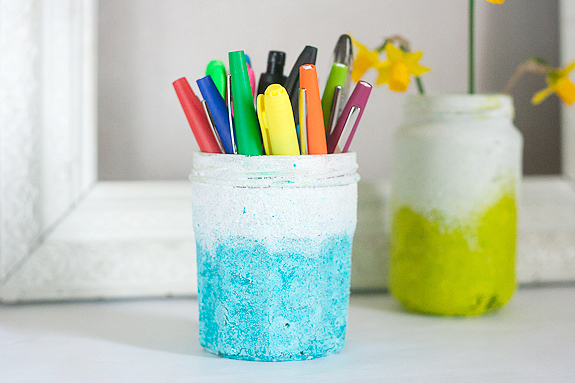 I love the weather beaten look of these, and the pen pot is the perfect touch for my somewhat drab desk.
Other Ideas
You could make these in a rainbow of colours for a themed event.
Or paint different shaped jars in the same colour for some uniformity.
Instead of spray ink, experiment with acrylic paints or washes.
Enjoy!