Mangoes were on sale and I went a little crazy. I have a hard time passing up a good deal. I used the mangoes to make my usual smoothies and salads, but I still had ripe mangoes to use. I decided to mix things up and make Mango Chocolate Chip Bread.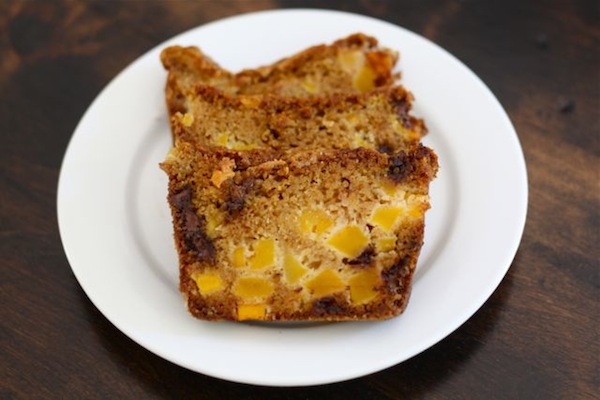 You might think the mango/chocolate combination sounds weird, but don't be scared, this quick bread is divine. My husband was scared to try it, but he fell in love with this bread after one bite. The sweet juicy mango chunks add a nice pop of color and flavor to the bread. And I promise the chocolate fits right in with the moist mango bread. You can never go wrong with adding in chocolate:) The bread is easy to make and is perfect for a breakfast treat, after school snack, or even dessert.
Mango Chocolate Chip Bread
Ingredients:
3 large eggs
3/4 cup canola oil
2 1/2 cups all-purpose flour
1 cup granulated sugar
1 teaspoon baking powder
1 teaspoon baking soda
1/2 teaspoon ground cinnamon
1/4 teaspoon salt
1/2 cup light brown sugar
2 cups diced mango
3/4 cups chocolate chips
Directions:
 Preheat the oven to 350 degrees and place a rack in the center of the oven. Spray an 8 1/2-x-4 1/2-inch loaf pan with nonstick cooking spray and line with parchment paper. Set aside.
Whisk the eggs and oil together in a small bowl. In large bowl, whisk together the flour, granulated sugar, baking soda, baking powder, salt, cinnamon, and brown sugar.
Pour the wet ingredients into the dry ingredients and stir together with a spoon. The dough will be very thick. Stir in the mango and chocolate chips. Pour the dough into the prepared loaf pan and spread evenly.
Bake the bread for 90 minutes, or until golden brown and a knife inserted in the center comes out clean. If the bread starts to brown too quickly, cover the top of the bread with foil and finish baking. Remove the bread from the oven and let it cool in the pan for 10 minutes. Remove the bread from the pan and cool completely on a cooling rack. Cut into slices and serve.
Recipe adapted from Dorie Greenspan's Baking From My Home to Yours