We're getting really close to St. Patrick's Day as March begins tomorrow and rainbows are forming everywhere to get ready for the gold! Last year we mixed up a Milk Rainbow Connection, so this year we're trying it out with pudding.
Supplies for Rainbow Pudding:
vanilla pudding
food coloring
bowl
glass
1. Mix up your pudding, either homemade or from a box. My pudding came from an instant pudding box mix.
2. Since my pudding turned out to be a little on the yellow side, I only need to add a bowl of red and blue to make our rainbow. Divide your pudding into a few bowls, one for each color to be mixed. Add a couple of drops of food coloring and stir.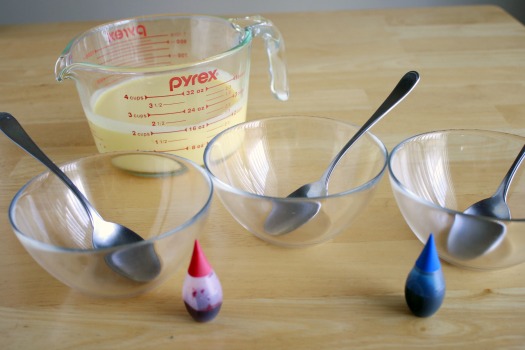 3. We made each color of the rainbow, mixing a couple of the already colored puddings together to form new colors.
4. After each color is made, using a spoon, layer each color of your pudding into a large clear glass. It's fun to see the rainbow take shape.
You can eat it out of this glass, or spoon your rainbow into individual bowls. It's fun to see the rainbow get all mixed up.