I'm always trying to come up with new ways to decorate Easter eggs. Recently while at the craft store, I happened upon puffy paint in the best neon colors. I haven't used puffy paint in over 20 twenty years but remembered always having a lot of fun with it. So we crafted up some Puffy Paint Easter Eggs with vibrant neon colors!
Neon Puffy Paint Easter Eggs
If you're looking for a fun and different way to decorate your eggs, this is it! Puffy paint is super fun to use and makes for a fun decoration on your eggs. You could use this to decorate plastic eggs or your hard-boiled eggs as well – if you purchase "non-toxic" puffy paint.
Supplies:
puffy paint – non-toxic
hard-boiled eggs or plastic eggs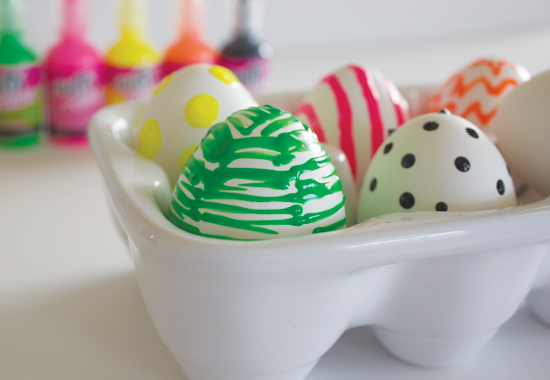 Instructions:
Simply boil your eggs and allow to cool. We love this method on our Egg Salad recipe page!
Then, practice out a few designs on scrap paper.
Once you have a design you like, get to work decorating.
This is a really simple project that you and your children will love doing together. Plus, the colors are a nice departure from the typical pastels we usually see this time of year and will look great as decoration on your Easter dinner table. Happy decorating with Puffy Paint Easter Eggs!
*Originally posted 4/2/12