My girls love to dress up. On a typical afternoon, they've managed to change outfits 4-5 times. There seems to be a dress-up for every occasion, tea time, walking their toy dogs, or reading stories. With all these dress ups, I've come up with a way to store them, keeping them organized and easy to find.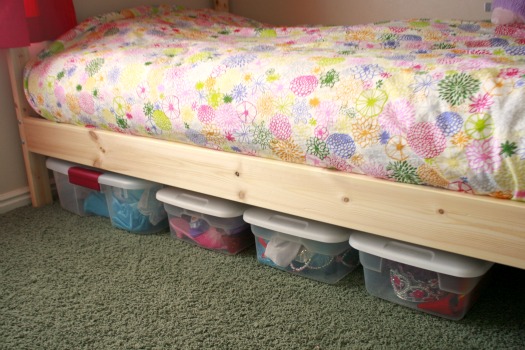 I love clear tubs. I have them all over my house. You can see what's inside and it's tucked away in a nice box. I found this container that is flat, long, included wheels, and has a flip lid. It's perfect for my girl's dresses and fits great under their beds. And my girls can each easily open up the flip lid to get out and clean up their dresses. (Really, these dresses should be all perfectly flat and unwrinkled, but I'm not a big stickler about it, they wear just the same!)
I've also purchased some of the smaller clear tubs, short enough to go under their bed. Dress up shoes go in one, and accessories go in the other two. A girl must have her accessories!
I've found that I like their dress ups all tucked in under their beds rather than hanging them up and taking up more space. It's helped my girls know right where to put them away when they're done. And the best part is that they can do it all themselves, love the independence!