If you're like us, craft supplies are just about everywhere in the house. We have loads of pipe cleaners, googly eyes, and stickers in several different drawers all around. It's time to get organized. We don't want one lone pom pom getting lost! It must be crafted with :)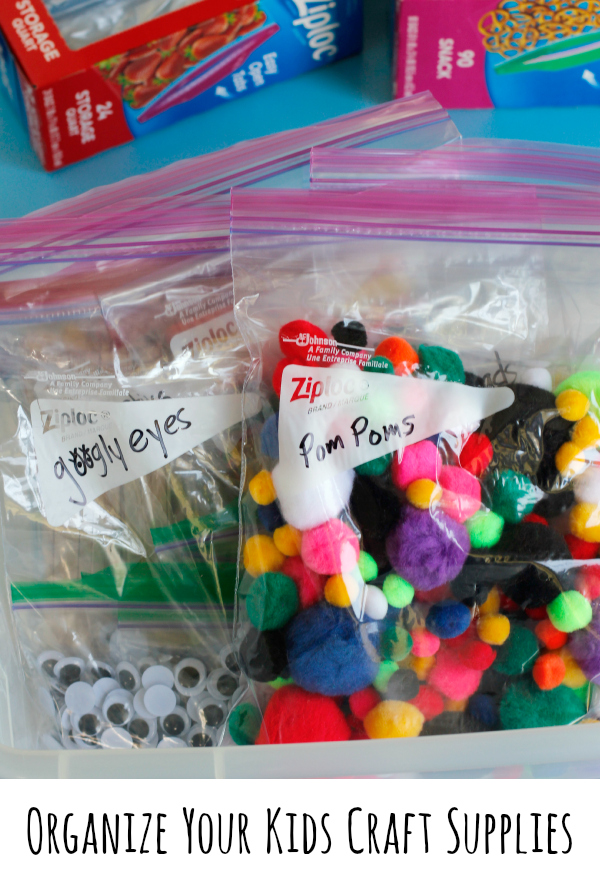 I'm partnering with Ziploc® brand to help in our craft supply clean up! They have fantastic new and improved easy open tabs for their plastic bags, making it even more efficient to craft. My kids can get to their pony beads in a flash, rather than attempting to find the opening in several tries. If we can get all our supplies in one handy area, we'll be that much more efficient as we craft. We'll know right where everything is!
Start by getting out all your craft supplies – beads, stickers, craft sticks, feathers, glue, paint brushes, and googly eyes. Lay them all out. You're likely to see you have a lot more than you thought!
I don't think I realized we have just about every size, color, and style of googly eyes out there! These storage bags are coming in handy! Each googly eye style is going into it's own bag, the snack bag size.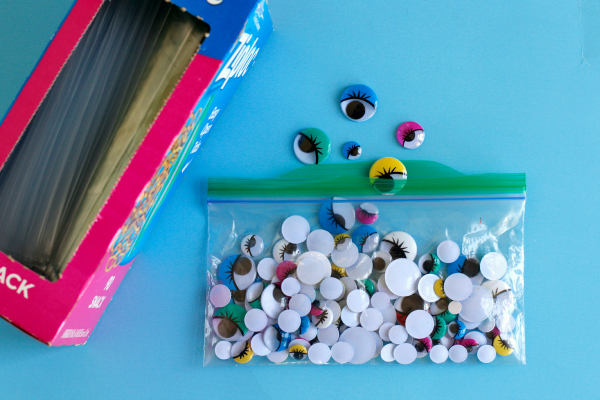 I added each snack-sized bag of googly eyes into one large storage bag, wrote the name on the label, and now they're all set! We have them in one handy place, keeping them all together. You know,  because of all the googly eye crafts you make. Wait, you don't have these in every style, size, and color? Well, you better get on that stat! You never know when you're going to need them – bracelets, rings, puppets and magnets!
I kept going with the other kids craft supplies we have, placing them in their own plastic bag. Craft sticks, pony beads, pom poms, etc. It's great to have all varieties of freezer, storage, sandwich and snack sizes of Ziploc® brand bags handy. I used each size as we organized!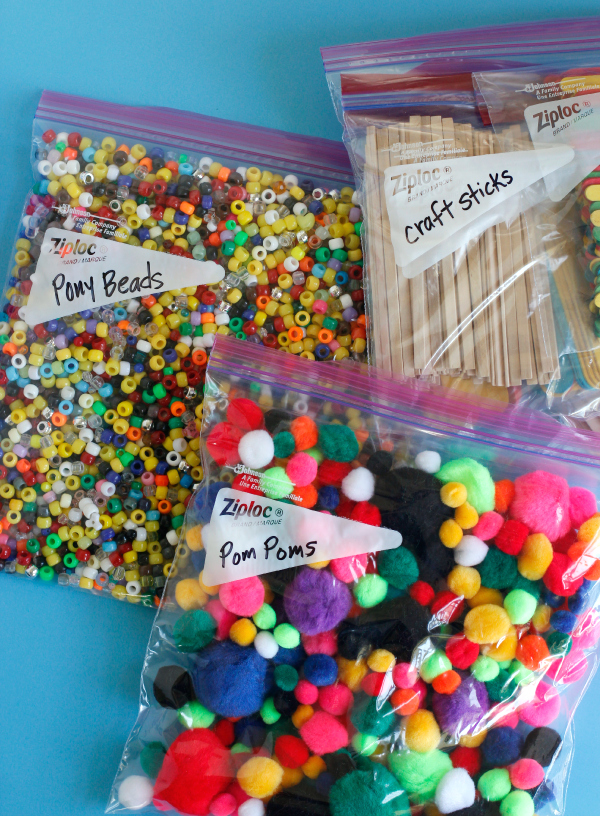 I'm always looking for better storage containers to keep everything organized. With all the kids craft supplies we buy, Ziploc® brand is helping me keep them neat and tidy. We love the new easy open tabs for quick access to our supplies.
Be sure to follow the Ziploc® Tough Mother campaign, as they know occasionally even the toughest moms could use a little help. To make tough mothers' lives easier, they've introduced new Easy Open Tabs, the same quality expected from Ziploc® brand, but with an added tab, making them easy to grip and open.
**Thanks to Ziploc® brand for sponsoring this post. All ideas and content are my own.