These are the perfect chocolate cupcakes. Perfect. They aren't too chocolaty, but enough to tame a heavy-duty craving. And the texture is lovely too. They practically melt in your mouth.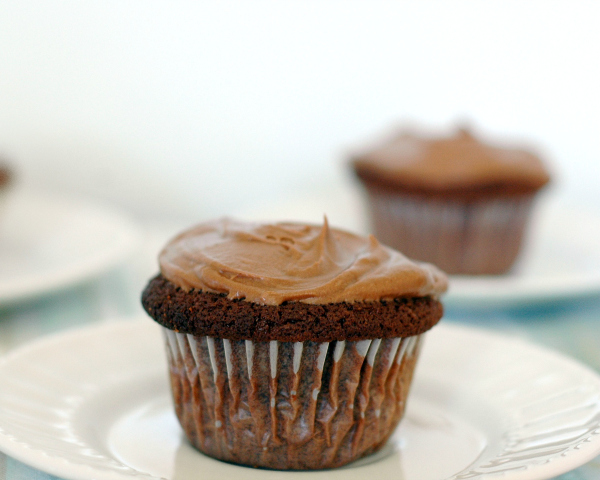 The recipe comes from baking wizard, Dorie Greenspan.  If you aren't familiar with her and you like to bake, do a quick Google search and check out her recipes.  They rarely, if ever, disappoint.
When we decorate chocolate cupcakes at our house in a few weeks, this will be the recipe we use.
Perfect Chocolate Cupcakes
from Baking:  From My Home To Yours by Dorie Greenspan
Ingredients:
Makes 12 cupcakes
For the chocolate cupcakes:
1 cup all-purpose flour
1/4 cup unsweetened cocoa powder
1/4 tsp baking powder
1/4 tsp baking soda
1/4 tsp salt
1 stick (8 tbsp) unsalted butter, at room temperature
3/4 cup sugar
1 large egg
1 large egg yolk
1/2 tsp pure vanilla extract
1/2 cup buttermilk
2 oz bittersweet chocolate, melted and cooled
Instructions:
Getting ready – Center a rack in the oven and preheat the oven to 350 degrees F. Fit the 12 molds in a regular-size muffin pan with paper muffin cups, or butter them with flour and tap out the excess.
Whisk together the flour, cocoa, baking powder, baking soda and salt. Working with a stand mixer, preferably fitted with the paddle attachment, or with a hand mixer in a large bowl, beat the butter at medium speed until soft and creamy. Add the sugar and beat for about 2 minutes, until it is blended into the butter. Add the egg, then the yolk, beating 1 minute after each addition and scraping down the sides and bottom of the bowl with a rubber spatula as needed. Beat in the vanilla, then reduce the mixer speed to low and add half the dry ingredients, mixing only until they disappear. Scrape down the bowl and add the buttermilk, mixing until incorporated, then mix in the remaining dry ingredients. Scrape down the bowl, add the melted chocolate and mix it in with the rubber spatula. Divide the batter evenly among the muffin molds.
Bake for 22 to 25 minutes, or until the tops of the cakes are dry and springy to the touch and a knife inserted into their centers comes out clean. Transfer the muffin pan to a rack and let the cakes cool for 5 minutes before unmolding. Cool to room temperature on the rack before decorating.
Powdered Sugar Frosting

1 stick butter
3 cups powdered sugar
1 tsp. vanilla extract
a little milk
Beat butter for a minute with an electric mixer. Add the powdered sugar a little at a time alternately with a little milk. Add the vanilla extract. Continue beating until light and fluffy.