Do you love homemade lemonade in summer as much as we do? You might have already tried our mint lemonade or strawberry lemonade recipes, but today we are sharing a refreshing pineapple lemonade slushie recipe that is perfect for summer.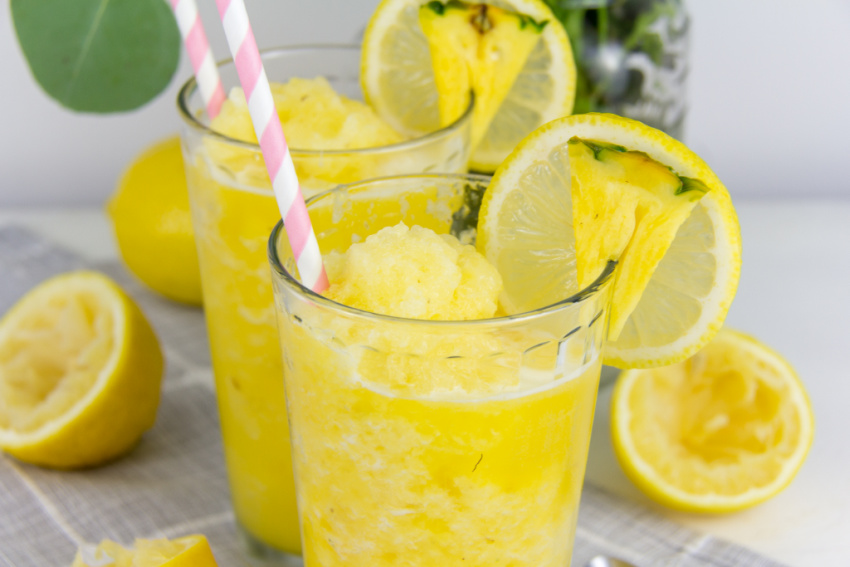 This pineapple lemonade slushie is perfect just as it is, but if you like it a little sweeter you can add a teaspoon of sugar or honey. If you want an adult version, add a shot of rum.
Before we get into the recipe, I want to share with you how to freeze pineapple chunks. You're going to need frozen pineapple for this recipe, but, if you are like me, you buy pineapple all summer long and if you don't use it all in one sitting you might need to freeze some for later.
How to freeze pineapple
Freezing pineapple is actually quite easy. When serving fresh pineapple, most people prefer to core the pineapple first. If you are freezing pineapple chunks to use in smoothies or slushies you don't need to do this. There's a lot of nutrients in the core, so why let it go to waste? It might be more firm when eaten fresh, but once it's blended you won't even notice the difference.
Cut your pineapple into smaller chunks, this will make them easier to blend once frozen.
Place the pineapple chunks on parchment paper on a cookie sheet that will fit into your freezer. Make sure the chunks are spaced apart and not touching.
Place the tray into the freezer until the pineapple chunks are frozen. I tend to leave them in overnight.
Put your frozen pineapple chunks into plastic freezer bags. I use smaller bags so that I can just use one bag at a time when making smoothies or slushies. Don't forget to label your bags with the date so you know which ones to use first, especially if you find pineapple on sale and haven't already used up your freezer stash.
Pineapple Lemonade Slushie Recipe
This recipe will make two tall glasses of slushie, or you can divide it between four smaller glasses. Simply double the recipe if you want to make more.
Squeeze two lemons, this should give you about 1/3 of a cup of lemon juice.
Add that to a blender with about 2 cups of ice, 2 cups of frozen pineapple, and 1 cup of sparkling soda water.
TIP: to get even more flavor, use Sparkling ICE in pineapple coconut flavor.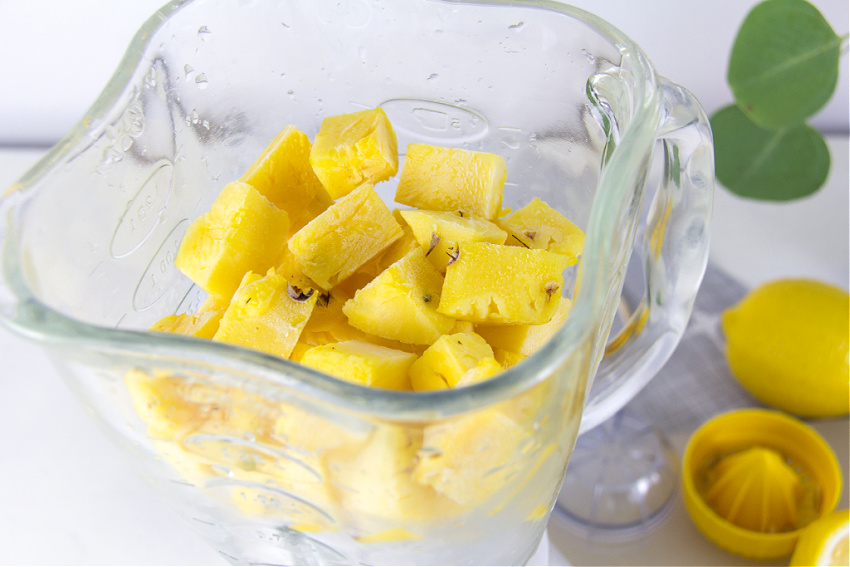 Blend ingredients until thick and slushy. You might have to remove the lid, mix it around a little, and then blend some more. I had to do this several times because our blender is a little older and doesn't like ice very much. If you find that your slushie is too thick, add a little more sparkling water to it.
I prefer not to add any sugar to this recipe. The riper your pineapple the sweeter it will be. If you prefer your slushie to be a little sweeter though add a teaspoon of sugar or simple syrup to the blender.
Pour your slushie into a glass and garnish it with a slice of lemon and a pineapple slice.

Pineapple Lemonade Slushie
Keyword:
drink, lemonade, pineapple, slushie
Ingredients
2

cups

Ice

2

cups

Frozen pineapple chunks

2

fresh

Lemons

Juiced

1

cup

sparkling soda water,

preferred: Sparkling ICE Coconut Pineapple
Instructions
Place all ingredients into the blender and blend until slushy. If it's too thick add a 1/4 cup more of sparkling water.

Pour into a glass and garnish with fresh pineapple and lemon.
Pin This Post For Later: