We love Halloween over here, turning everything we can into something spooky for the month of October. Even our lawn ornaments – plastic pink flamingos want to get into the fun!! Here are simple 3 ways to dress these cuties up you must try at home. Our party guests are going to get a kick out of these silly pink flamingo halloween makeover ideas!
Each of these ideas are easily replicated with your own DIY spin and these how-to's below. But if you're wanting to buy them as is, I've shared the link to Amazon where you can get your own just like the pics! Happy Halloween!
Pink Flamingos Halloween Makeover
Is this the cutest ever?!! It will be the sweetest witch on the block! Here are 2 ways to make this witch costume for the birds.
Make a witch hat out of craft foam or felt fabric, sewing or gluing it together in a cone shape, adding a purple or black brim at the bottom. Add a piece of elastic to the hat, it just gives it that silly costume look!
Make your witch cape out of black fabric or felt and attach it with a purple ribbon. The ribbon can be sewn or glued to either side of the fabric piece for a gathered look. But it can also simply wrap right around the entire piece of black fabric, showing around the back as well.
OR if you have any doll costumes laying around with a witch hat and cape, these would fit perfectly around your pink flamingo!
To purchase as is, find it here.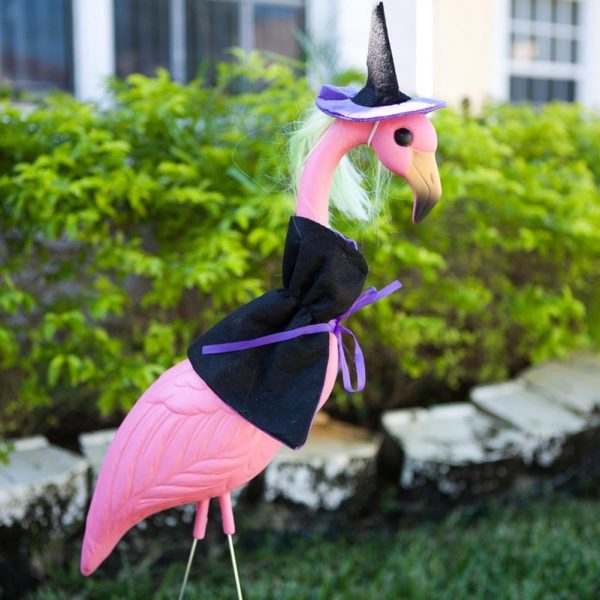 What a fun way to make your flamingos come to "life" for Halloween!
Paint your pink birds with black paint all over. Let this dry and add white painted bones for the skeleton.
You can trace this first with a pencil or chalk to get the lines, then use white acrylic paint to fill in the lines. Repeat this for both sides of your flamingo.
To purchase as is, find it here.
Angel: Your cute sweet little pink lawn birds can be turned into an sweet angel in no time. First, paint it mostly white, keeping some pink feathers if you like. For the halo, here are 2 ways to attach.
Hot glue a pipe cleaner shaped like a halo onto the top of the flamingo's head. Silver sparkly pipe cleaners would be the best for these angelic birds.
Drill a hole into the top of the flamingo's head and use E6000 glue to attach the pipe cleaner halo into place. This method will be a more firm hold for the halo.
Devil: Using almost the same method as the skeletons above, paint your pink flamingo a black color. But give it some red skeleton bones. Next, attach a red pipe cleaner to the top of it's head in the shape of 2 horns. You could even craft a red pipe cleaner into a devil's pitchfork that could be taped or glued to the side of your flamingo.
To purchase as is, find it here.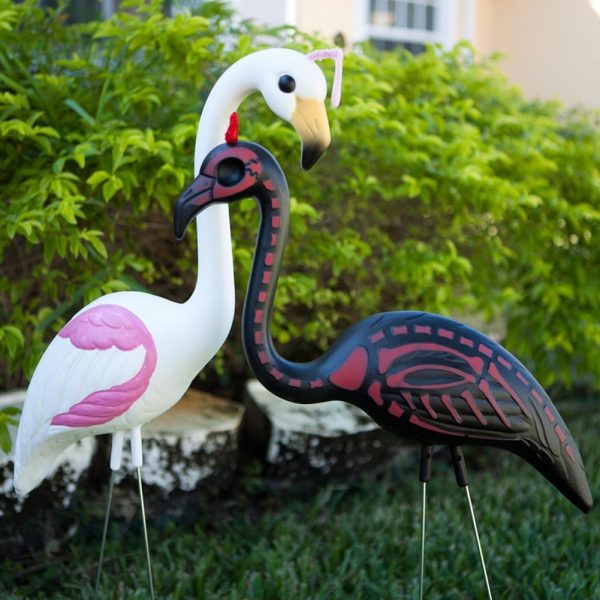 Have fun displaying these in your haunting Halloween yard! Not only will your kids love to help create these spooky creatures, your friends and neighbors are going to get a kick out of them as they pass by!
*This post contains affiliate links. Thanks for supporting Make and Takes!