When I became pregnant with child number one, I developed more of my creativity and found a love of Primitive Stitchery and embroidery. But first, I started with cross-stitch patterns, just to dip my toes into this creative outlet and get a better understanding of this skill. I learned how to cross-stitch with my stitching hoop, needle, and thread. I bought one of those simple cheap kits at the dollar store, cross-stitching a Dinosaur, similar to this stitched cat pattern. I kept it for a long time hanging up to remember my beginnings. Soon after I completed it, I had fallen in love with this creative skill — the hoop, needle, and thread.
I then I moved on to other cross-stitch patterns, finding all I could cross-stitch. I came across this Bear pattern for my son when he was born and added it to a pillow I made for him. I love this sweet stitched bear!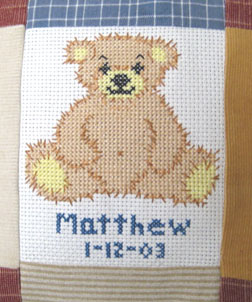 Learn the Art of Primitive Stitchery
By the time I had started to master cross-stitching, I was turned on to a whole new world of stitching: Primitive Stitchery. Primitive Stitchery is embroidery that is more simple, straight lines, using muslin or another thin fabric, not having to use a pattern if you don't want to. It's much more free. And I loved it. You didn't have to cross any stitches and you could follow a pattern or come up with your own if you could draw lines. I was visiting every quilt shop around town and eyeing all the great stitchery patterns. There are so many great patterns out there.
I found this pattern is in memory of my Grandma Passey who used to sing us this great song, Little Purple Pansies. The pattern is from Huckleberry Stitches. My sister and I made one for all of my 8 siblings!
A few of my favorite Primitive Stitchery Pattern sites:
I have even come up with a line of chicken patterns myself. When I get them scanned, I hope to post them on the blog as free patterns.
What great stitchery websites do you visit?