Serve up a tasty, delicious treat this summer with my favorite dessert, Raspberry S'mores Milkshake!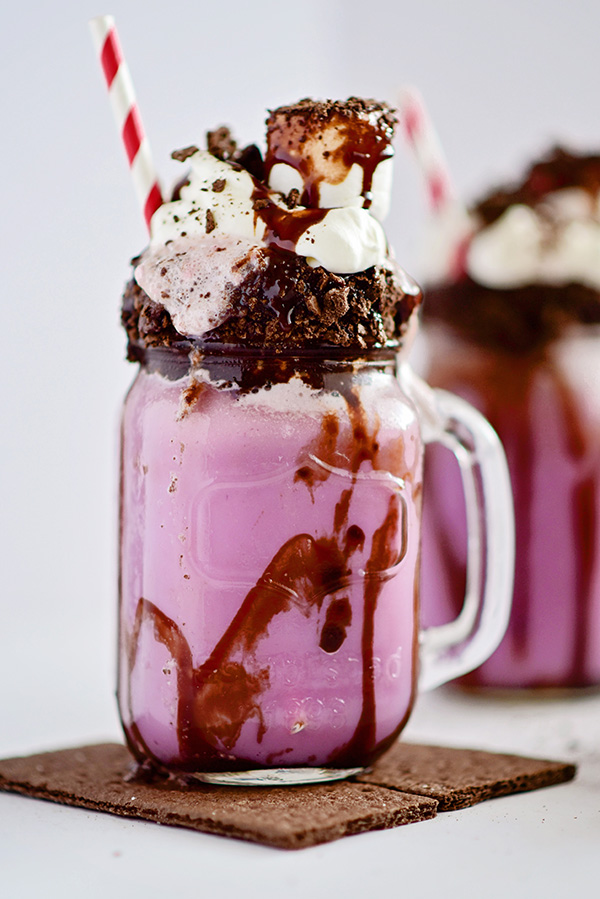 Warm weather. Basting in the sun with a refreshing summer treat! What can be better than this?! Raspberries pair so well with chocolate, marshmallow and graham cracker. I would say one of the best addition to classic s'mores recipe. Try and add a couple of fresh raspberries between the chocolate and marshmallows next time you make s'mores :) You are going to love them even more!
Raspberry S'mores Milkshake
Now, back to my Raspberry S'mores Milkshake recipe. There are only a couple of ingredients required to make this spectacular and super tasty treat: fresh raspberries, raspberry ice cream, chocolate graham crackers, whipped cream, chocolate syrup and marshmallows. No cooking, no toasting involved. Super easy to make and super yummy!
Raspberry S'mores Milkshake Recipe
Yield: 4 
½ pack chocolate graham crackers, crushed
5 scoops raspberry ice cream
1 cup milk
whipped cream
chocolate syrup
marshmallows
fresh raspberries to serve
Method:
Add chocolate syrup into a shallow bowl and crushed chocolate graham crackers in another one. Dip the top of the jars first in chocolate syrup and then in crushed graham crackers. Drizzles some chocolate syrup on the sides of the jars and place them in the freezer for 10-15 minutes.
Repeat this step with some marshmallows too. Dip them first in chocolate syrup and then in crushed crackers and set them aside to be added when you are ready to serve milkshakes.
Meanwhile, blend raspberry ice cream with milk until the mixture is creamy . Remove jars from freezer and divide the mixture between them. Add whipped cream on top, fresh raspberries, and graham cracker coated marshmallows. Drizzle some more chocolate syrup on top, some crushed chocolate graham cracker and serve.