I always get excited for citrus season and making this rich Meyer lemon curd topping with sweet Meyer lemons. Meyer lemons are a bit sweeter than regular lemons and have a darker rind. They are a cross between a regular lemon and a mandarin orange. Even though they've been around for over 100 years, they are becoming more and more popular, so you've probably seen them at your local market. Check Costco and Walmart for inexpensive Meyer lemons and stock up. They go quickly.
I save Meyer lemons for special recipes. (I'm not squeezing them into my water.) Lemon curd is a great way to enjoy the unique flavor of Meyer lemons. Lemon curd is a favorite around our house. We usually have a jar in the fridge to spread on toast or a scone.  I've included other uses below, including my favorite–on a spoon.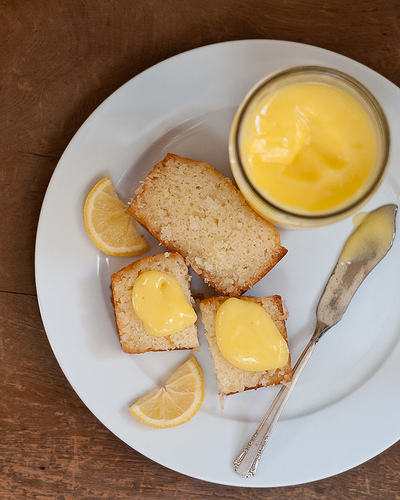 Rich Meyer Lemon Curd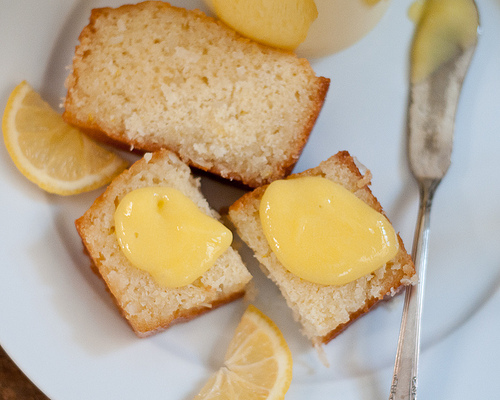 This is a really rich, buttery lemon curd.  If you want to, cut back on the butter by 4 tablespoons for a lighter lemon curd, or use 2 additional whole eggs instead of the 4 egg yolks.
Meyer Lemon Curd Recipe

Ingredients:
1 cup fresh Meyer lemon juice (regular lemon juice is fine)
1 1/2 cups sugar
4 large eggs
4 large egg yolks
2 tsp. finely grated lemon zest
1/8 tsp. salt
1 cup (2 sticks, 16 Tbsp.) COLD unsalted butter, diced
Method:
In a 3 quart stainless steel or other non-reactive pan, whisk together egg yolks, sugar, zest and salt until thick and light in color. Whisk in the lemon juice a little at a time.
Cook over medium high heat, being careful not to let it boil, until thickened. Remove from heat and strain through a fine mesh sieve into a clean bowl. Whisk the cold butter, a few pieces at a time, into the lemon curd, waiting until each piece has melted and been incorporated before adding more.  Whisk a few times more at the end to make sure all butter has been incorporated.
Use as desired.  Store in an airtight container or jar. Keeps about 1 week.
Yields 4 cups.
How to Use Your Lemon Curd:
toppings: toast, English muffins, scones, or other quick breads
breakfast: waffles or pancakes
desserts: ice cream, pound cake, filling for cake, pie or tarts, sandwiched between two cookies
filling: thumbprint cookies, swirled into a cheesecake before baking, mix with whipped cream or yogurt as a fruit dip, Roasted Chicken with Lemon Curd,
or plain on a spoon (my preferred way).