Organizing and decorating has been on the mind for the last 6 years as we've jumped around from place to place. I'm excited that Chris and I are finally in a place where I can put holes in the walls and keep stuff on the walls for more than 6-12 months!
To try and motivate myself to be creative and get decrating on my house, I've started a Zero Budget Project. It's where I decorate rooms and nooks for as little money as possible. This project definitely falls in that category. The wood and wall screws were on hand already, I just spent $10 on 40 hooks.
In the past, I've just used the vintage spice of life jars and metal tray and that's been enough for all of my jewelry. After about a week, though, my necklaces are usually a jumbled up mess and some of my smaller special pieces end up in the bottom of my jar, never seeing any rotation. I had to get my necklaces off the dresser. I also needed to get my glasses out of reach of children. Felix loves to put his fingerprints on my lenses like it's his job.
I would venture to say that the style in our home is a rustic mid-century/contemporary. I love mixing mid-century pieces with rustic textures, vibrant colors and clean lines. Chris is pretty vocal about what goes in the home and on the walls, so I didn't want to display anything too feminine.
When cleaning up our side yard I came across a few weathered strips of wood. I knew at least one had to go on my wall. I cut one down to size using a hand saw (too lazy to get out the power tools on Saturday). I mounted the wood onto studs and pushed these rad little pin hooks into the soft pine. This project took about 2-3 hours, by myself. You could cut down your DIY time by at least half by having another adult help out and by having your jewelry already organized, ready to hang.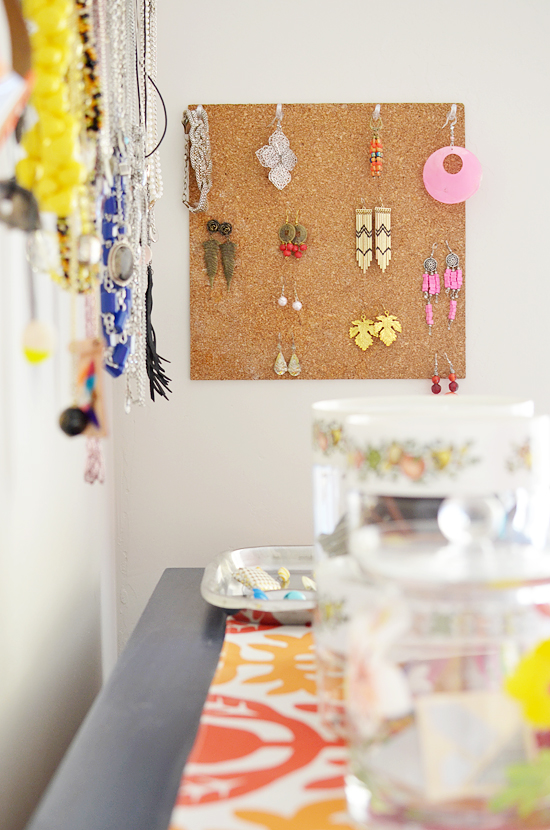 I was also running out of space on my earrings tray, so I took this productive time to make a little earrings board. I have a bunch of cork boards onhand, I just nabbed one, and pinned it to the wall with more pin hooks. My earrings have no problem sticking to the cork, and I can rearrange my assortment as I purchase more (which is inevitable!).
I imagine you could use large nails or upholstery tacks here, but those hooks are pretty great. I'm thinking of installing a second set of hooks in my closet for my scarves. They're multiplying like rabbits!
If you want to weather the wood, I would suggest leaving a piece of untreated wood lying outside during these harsh winter months. Maybe that won't work if you're some place like Arizona, so leave it in the sun where it will also get wet. It'll turn all grey and pretty.
Lacking in the motivation department? Check out these similar hook systems available for purchase: