We all could use a little more time in our day, am I right? 5:00pm rolls around and I'm humming and hawing at what to cook for dinner. It takes a good 30-45 minutes to cook chicken, then there is prepping the lettuce and cutting up veggies. I only have 2 arms. As helpful as my children think they are in the kitchen, sometimes it's not super helpful. So I'm starting to plan my meals a week in advance, make a list and buy groceries, and prep as much of the food as I can ahead of time. So far, it's working out perfect!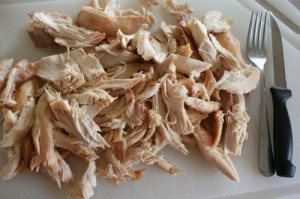 Chicken is one of those meats you can cook ahead of time. Dice, shred, or slice it up, and it's ready to be added to meals for dinner all week long. Cooking my meat on the first day of the week, preferably Monday, is a great way to save on time for the following days of the week. Or you can buy it already cooked, like rotisserie chicken, and simply cut it all up and it's ready to go.
Kami from No Biggie has some fantastic recipes for chicken. I've made almost all of them, and if you use meat that's been prepped ahead of time, making dinner on those nights is a cinch!
As easy as it is to buy the pre-made packages of lettuce, already prepped for you, it is a lot cheaper to buy a head of lettuce. When I do this, it is a lot easier to prep your salads if you've washed and dried your lettuce ahead of time. Take a few minutes to take off each lettuce leaf, wash it under cold water, and dry it on a paper towel. I even roll up my lettuce in the paper towel and place it in a plastic zip baggie. Then it's ready to go next time you're ready to make a salad. We're much more likely to make and eat a salad if the ingredients are all prepped and ready to eat!
What are you prepping ahead of time, saving you a few precious minutes when cooking dinner?